If you're running a small business, then you know that managing your customer relationships is essential to your success. That's where a CRM (customer relationship management) comes in. A CRM helps you keep track of all your customers' contact information, as well as their interactions with your company.
There are many different CRMs on the market, but if you're using WordPress, then you're in luck – there are some great CRM plugins available. CRM WordPress plugins make it easier to engage with your customers in a way that ties into the back-end of business operations.
In this article, we'll take a look at the top 5 WordPress CRM plugins.
Factors to Consider When Choosing WordPress CRM Plugins
When choosing a CRM plugin for WordPress, there are several factors you'll need to consider. Here are some of the most important:
Ease of use – The plugin should be easy to use, with a user-friendly interface.
Functionality – The plugin should offer all the features you need to manage your customer relationships.
Price – The plugin should be affordable, with a low cost of entry.
Compatibility – The plugin should be compatible with your version of WordPress and with any other plugins you're using.
Support – The plugin should offer good support, including documentation and help forums.
5 Best WordPress CRM Plugins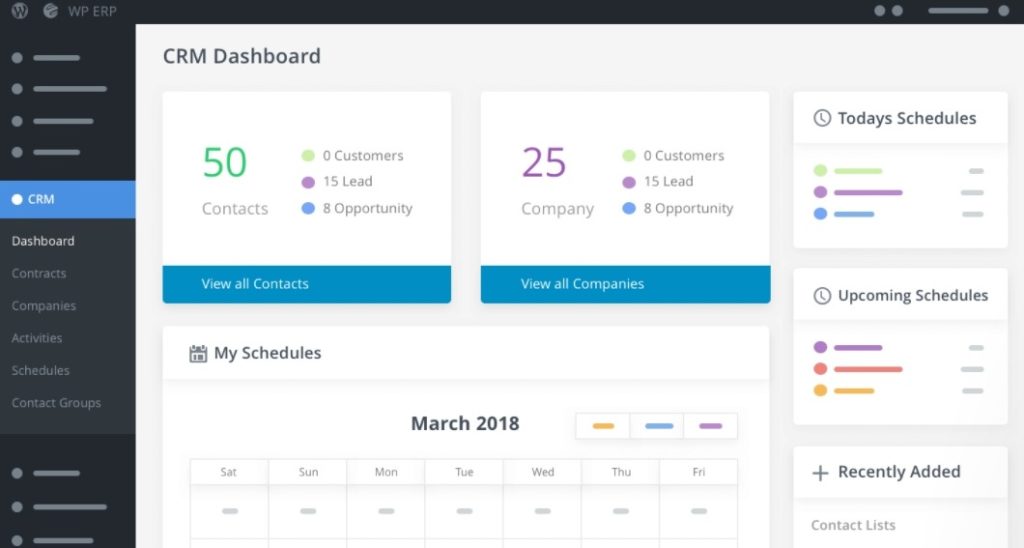 WP ERP is a powerful, Open Source CRM that is perfect for small businesses. The simple, smart, and meaningful interface make it easy to track all of your contacts and interactions. The marketing tools make it easy to track your campaigns and see how they are performing. You can also use the data to analyze trends and optimize your strategies.
This plugin helps business owners determine which avenues bring them the most return on investment (ROI) with their time and money.
The HR management software makes it easy to track and manage employee data, the accounting software keeps your finances in order, and the CRM helps you build long-lasting relationships with customers. This plugin comes in both free and pro versions, so you can choose the features that best meet your needs.
To connect with other applications, such as Gravity Forms, Mailchimp, and Zendesk's Pro version of WP ERP is required.
It's easy to use, so you'll be able to get up and running quickly. WP ERP is perfect for small businesses who want a CRM that is affordable, customizable, and easy to use.
WordPress Jetpack is a plugin that was created by WordPress. It is an all-in-one plugin that includes features for security, backup, site stats, contact forms, and more. It was designed to simplify the process of managing a WordPress site. And JetPack CRM is among the tool list of this plugin.
Jetpack CRM is an app that makes it easy to juggle the demands of running a small business. It helps you better understand your customers and lets you track leads, so they don't get lost in the shuffle. With Jetpack CRM, keeping up with everything becomes second nature.
It's easy to upload contacts from form responses and set up notifications for activities like when someone requests more information about your product or calls trying to sell you something else entirely. Along with features like these, JetPack CRM has all of the tools needed for marketing automation, campaign tracking, and data analysis-helping you grow your business faster than ever before.
Managing leads can be a daunting task, but UpiCRM makes it easy. This powerful CRM plugin for WordPress helps you keep track of all of your leads and their interactions.
It allows you to collect leads from all your forms, servers, social media campaigns, and more. Plus, you can easily manage and distribute your leads all in one place.
You can assign leads to specific members of your team, track the progress of each lead, and measure the effectiveness of your marketing campaigns. The UpiCRM dashboard lets you see at a glance how your funnel is doing and make predictions about future sales.
With UpiCRM, you can also track your e-mail campaigns and see how they're performing. And if that's not enough, the software also lets you export your leads to Excel or CSV.
The Groundhogg CRM is a free, robust solution for tracking all of your contacts and interactions. The marketing tools in the suite make it easy to track keywords and optimize your strategies with real-time email features. It also gives you access to data so that you can analyze trends and determine which avenues bring the most return on investment (ROI) with your time and money.
These features allow business owners to either hire an in-house marketing department or do it themselves without needing any technical knowledge through intuitive point-and-click interfaces.
Groundhogg helps small businesses acquire leads, make more sales, organize & segment their contacts to send more relevant communications, automate their communications to save them time and increase productivity while collecting data they can mine over time.
The WP-CRM System is the ultimate WordPress CRM plugin, enabling you to seamlessly manage clients right from your website. Tracking client contacts and campaigns has never been easier with the ability to integrate Mailchimp, send invoices and payment reminders using stripe with ease.
Managing your clients and potential business opportunities just became much more convenient with WP-CRM System. This WordPress CRM plugin allows you to store all of your client's information directly on your website, making it easy for you to manage everything in one place.
With this plugin running on your site, you receive a clear overview of what's happening for each campaign without ever having to leave your web page or browse through any sidebars that cluttered up old email inboxes.
With custom fields, you can track the data that is most important to your business, so you can keep a clear overview of all current and future projects. The dashboard allows you to see the big picture at a glance, while also providing detailed information on each individual project.