There are a lot of people out there who want to be their own boss. The Internet has made it possible for anyone with an idea and a computer to sell products without ever leaving the house.
But many people don't have any idea how to get started, especially if they're not tech-savvy or have never done anything like this before. That's where Shopify comes in! It provides you with everything you need to start selling your product online, from design templates and hosting space down to sales tracking software. In other words, Shopify is the best way for entrepreneurs who don't know much about technology but still want to succeed!
In this article, I'm going to share 12 services that can be sold through a Shopify store.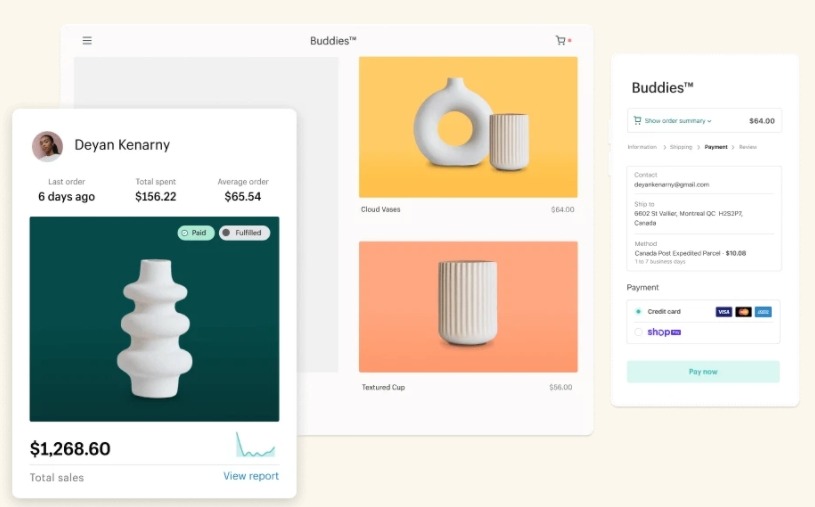 Service appointments
One of the most popular services to sell on Shopify is service appointments. In fact, some people even use their shops as a "front" to book appointments for different kinds of jobs, such as plumbing or dentistry.
You could talk about how technology has made it easier than ever before to find local businesses and make an appointment with them online. You can also warn your clients that they should always check a business' reviews on customer websites like Google Reviews, Facebook, and Yelp before making a booking. It's better to be safe than sorry!
Memberships
Another hot service is membership sites where you pay monthly fees for access rather than buying products. This is very common in the health and fitness industries because customers are willing to pay a little bit of money every month if it means that they'll look better or feel healthier.
You can start off by recommending workout plans to customers based on their goals (like losing weight, building muscle, etc). Next, you can talk about how some people like to give up when they haven't achieved their goals in the first few weeks.
But with a membership site like yours, your customers will be able to access the latest workouts and fitness tips that are proven effective time after time!
Consultations
Having trouble coming up with ideas for what kinds of businesses to create? Consultations are perfect because you don't have to do any hard work but your clients will still think that you're amazing.
This is also great for creative entrepreneurs who want to share their ideas with other businesses rather than trying to come up with all of the brilliant concepts themselves.
You want to begin by explaining how there are so many different kinds of businesses out there. You can go into detail about how consultants help them take an idea and turn it into reality, or you might prefer to talk about your favorite creative business (whether it's an Etsy shop or a bakery).
Your Shopify store should also display any testimonials that you've received from past clients – this will show visitors just how much people love working with you!
Digital products
The internet is filled with websites for digital products – everything from ebooks, membership site access, video courses, image files, etc. It's a big market that can be difficult to break into for new Shopify entrepreneurs, but amazingly easy if you are know-how.
You can start by writing about the benefits of delivering content digitally – it's faster and easier than printing out physical copies or shipping them from warehouses! You might also want to talk about how digital ebooks will always be up-to-date because they get automatically updated whenever something changes.
For example, let's say your client wants to sell an ebook about skin care products – you could write a blog post that explains how ingredients change depending on what country they're sold in.
Experiences
People love going on adventures, but sometimes it's hard for entrepreneurs to come with their own ideas. This is where Shopify comes in handy – you might want to write about how experiences can be sold like products, such as a trip to an island or skydiving.
This is also popular for businesses that already offer physical products, like kayaking tours and photography lessons.
You could start by talking about the benefits of selling experiences over traditional products (like the fact that people will pay more for things they'll remember forever).
You can even talk about "side hustles" and how some entrepreneurs prefer to use their stores as platforms for offering tips and advice rather than selling items.
Classes and workshops
Another benefit of using Shopify is that it makes it easy for owners to add any kind of class or workshop into their store. This is great because people often want face-to-face advice that they can't get by simply reading an ebook or watching a video.
You should start your article by explaining the benefits of classes and workshops (like the fact that they offer personal attention which you can't find online).
You might also want to talk about how workshops allow entrepreneurs who prefer not to deal with clients one-on-one, but still, wish to share their knowledge with others.
Rentals
Many Shopify owners rent out physical products like tools and machines, but this is only scratching the surface! For example, many people are willing to pay for short-term loans instead of making expensive purchases immediately. As long as you have the right kind of store, you can offer almost anything for a rental fee.
You should start by explaining how rentals work with Shopify – for example, you might want to mention that your client will have to purchase backup items in the event that something gets damaged during its use.
You could also talk about why rentals are so popular as opposed to making one-time sales (some people just aren't ready yet).
Quotes, estimates, and assessments
Some entrepreneurs have plenty of ideas but lack the skills or tools needed to bring those ideas into reality. This is where quotes come in handy because they give owners an idea of how much it'll cost them and whether or not the investment is worth it.
You can even go further and offer estimates which are a bit more detailed, or assessments that show exactly what went into making the quote.
You should start your article by explaining why quotes, estimates, and assessments are important for Shopify owners – for example, you could say that they're especially useful because clients can get a better idea of how much their project will cost.
You might also want to mention that Shopify makes it easy for owners to offer these services thanks to simple apps and add-ons.
Donations
People often ask themselves if they should donate to something going on in the news or send money after natural disasters strike – but sometimes it's hard to know where exactly your donation is going or if it'll be put to good use. This is where Shopify comes in handy because it makes it easy to set up a donation button in your store.
You should start by explaining why Shopify is great for collecting donations – you might say that since they're sent directly from the client's credit card, there's no need to worry about who will receive or manage the funds.
You could also explain how people can use Shopify donation apps and add-ons to make their donation process even easier.
Event tickets
People often visit websites like Craigslist in order to find underpriced items at local events or off-season sales. However, most of these ads are scams and there's a good chance that a seller will not only rip you off but steal your personal information as well.
The best way to avoid this is by using Shopify's buy buttons which make it easy for sellers to sell their products at a fixed price.
You should start your article by explaining why people turn to Shopify when they want to sell event tickets – for example, you might mention that thanks to apps and add-ons, it'll be super easy for owners to set up the required buy button.
You can also explain how reputable Shopify stores are less likely to be the target of scammers because they take security seriously.
Digital gift cards
One great thing about digital goods is that there's no need for a client to wait in order for them to arrive in the mail! That's why so many entrepreneurs have turned their sites into digital gift card stores which allow people to purchase and send electronic cards.
You should start your article by explaining why digital gift cards are so popular – for example, you could say that since they're sent straight to the client's inbox, there's no need to worry about shipping or waiting in long lines.
You might also want to mention that Shopify makes it easy for clients to set up their own digital gift card store thanks to simple apps and add-ons.
Live streams
At some point, most entrepreneurs will realize that their website can be a powerful marketing tool and there's no better way to show this than through live streaming events! However, even though most social media sites have built-in broadcasting features, not all of them are dependable – that's why so many Shopify owners have started using apps and add-ons from dedicated streaming services.
You should start your article by explaining how live streaming events on a website can help entrepreneurs attract more clients – for example, you could say that since the stream is saved in a library, users don't have to worry about losing their audience. You could also mention some of the most popular streaming apps and add-ons used by Shopify stores – for example, some options include Google Hangouts On Air and Chime.
Conclusion
Start by creating a Shopify store and choosing a design theme that you think looks professional – we'll want to appear credible, after all! Then all you need to do is add content to your site.
Even something as simple as a blog post about the history of search engine optimization could be enough for people to start trusting you with their campaigns.
The "help" section on your website should also include useful articles about how search engines work and how regular businesses can benefit from them. Be sure not to copy anything from Wikipedia or another online encyclopedia though!
You don't want potential clients thinking that you're selling information, rather than a service!