5 Best WordPress Backup Plugins in 2023
A backup is a copy of your website that you can use to restore your site if something goes wrong. WordPress backups are especially important because they allow you to restore your site if it is hacked or if you make a mistake and break something.
If you're a WordPress user, then you know how important it is to make sure your website is backed up. After all, you don't want to lose all your hard work due to a server crash or some other disaster.
There are many different ways to create a WordPress backup, but the most important thing is to make sure that you create one regularly. The best way to do this is to use a WordPress backup plugin. Fortunately, there are plenty of great WordPress backup plugins available. In this article, we'll share the 5 best WordPress backup plugins.
Why Do You Need a Backup Plugin?
Creating a regular backup of your WordPress site is important for many reasons. First, it protects you from data loss. If something happens to your website, you can always restore it from a backup.
Second, it helps you to recover from hacking. If your website is hacked, you can restore it from a backup and be up and running again in no time.
Last, but not least, it protects you from mistakes. We all make them, and sometimes they can be costly. If you break something on your website, you can always restore it from a backup.
Factors to Consider When Choosing Backup Plugins
Security: One of the most important factors to consider when choosing a backup plugin is security. Make sure the plugin you choose has been well-tested and is secure.
Ease of Use: The backup plugin you choose should be easy to use. After all, you don't want to spend hours trying to figure out how to use it.
Cloud Services Support: If you want to backup your website to the services like DropBox or Google Drive, make sure the plugin you choose supports this.
Ability to Restore: The best backup plugins allow you to easily restore your website if something goes wrong.
Backup Frequency: The frequency with which your website backups are created is also important. Choose a plugin that will create backups on a schedule that works for you.
5 Best WordPress Backup Plugins
There are many other reasons why backing up your WordPress site is important, but these are some of the most important ones. Now that we've covered why you need a backup plugin, let's take a look at some of the best plugins available.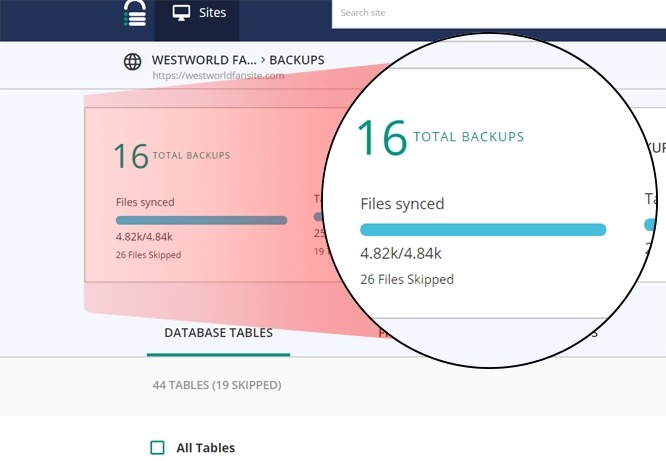 BlogVault protects your website from all types of disasters by providing you with a painless backup process and auto-incremental backups. When disaster strikes, BlogVault enables you to get full access to your website in minutes.
It is the first plugin with Multi-site support which lets you protect unlimited WordPress sites (including free subdomains) under one account. BlogVault also offers complete protection against data loss including scheduled backups, incremental backups, and real-time backups.
Backup Buddy is a WordPress backup plugin that makes backing up your website simple and intuitive. With Backup Buddy, you have the option of choosing to back up either just your site's database or everything – including all files, themes, homepage settings, plugins, and server settings. This allows you to create backups anytime with less worry that anything will be missed.
WordPress backups are a necessity for any site owner, regardless of how much time and effort they put into their website. Jetpack's backup plugin is one of the easiest to use, and it comes with powerful features that make it perfect for anyone from beginner to pro.
You can restore your site from anywhere with the Jetpack mobile app, and even if your site is offline you can still get it back up and running. Plus, our best-in-class support means you're never on your own when it comes to backing up your WordPress site.
Backing up your website is one of the most important things you can do to protect yourself from data loss. UpdraftPlus is the most popular WordPress backup plugin, with over 1 million active installs. It's easy to use and has features like one-click restores, automatic backups, and drag-and-drop file restoration.
Whether you're running a blog or developing content for the interface of your site, all information can be securely backed up, secure passwords are set by default on new installs to avoid unauthorized access and restores are easy with unlimited versions.
WP Time Capsule reduces the amount of time spent and storage used for full-site backups, and any change you make on your website will be backed up automatically. Every change that happens on your website is backed up immediately. This means that your backup is always up-to-date, automatically. WP Time Capsule's Auto-Update feature allows you to keep your site safe and up-to-date, with no need for manual intervention.
In the inevitable scenario of a hack, all you have to do is to restore the website to a point back in time, with a single click of a button. Your website is backed up every time an update is applied. In case an update breaks your site, a quick restore is just a click away.