5 Best PDF Plugins for WordPress in 2023
You may already know that PDFs are the most popular file format on the planet. They're also one of the easiest formats to create, and they can be used for everything from marketing materials to contracts. But what if you want your WordPress website to have a PDF plugin? In this article, will take a look at the five best plugins out there right now!
Why Do You Need a PDF Plugin for WordPress?
A PDF plugin gives you the ability to create, manage, and track your PDF files all from one place. Not only that, but a good PDF plugin will also offer features like password protection, watermarking, and the ability to add attachments.
The best part about using a PDF plugin is that it makes it easy for you to give your readers the ability to download your PDF files. This can be a great way to increase leads, build your email list, or even sell products on your website.
Best PDF Plugins for WordPress
Now that we've covered why you might need a PDF plugin, let's take a look at some of the best plugins available for WordPress.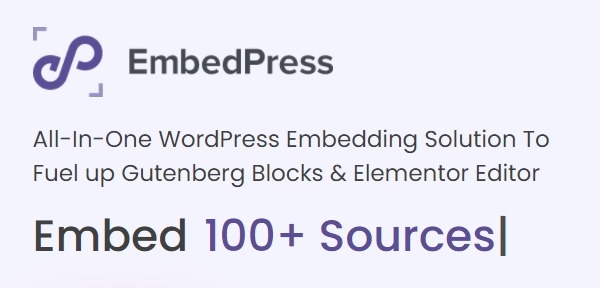 While most people think of WordPress as a tool for creating text-based content, it is actually quite versatile and can be used to add a variety of different types of media to your website. Adding content to your website should be easy and hassle-free. With EmbedPress, it is.
This WordPress plugin allows you to instantly embed any content to your site using Gutenberg Blocks. Whether you have PDF documents or other media files, EmbedPress makes it easy to add them to your posts and pages.
With the help of a plugin like EmbedPress, you can easily add videos from popular platforms like YouTube, Vimeo, and Twitch. This can be a great way to liven up your website and give visitors a more engaging experience. Plus, it can be a great way to promote your own video content or that of others that you think your audience will enjoy.
If you're looking for an all-in-one PDF solution for WordPress, look no further than E2PDF. This powerful plugin includes a PDF viewer, editor, and forms editor, so you can create, edit, and manage your PDF documents without ever leaving the WordPress dashboard.
There are many built-in modules such as Viewer, Editor, Form Editor, and Data Injector that make this plugin one of the most comprehensive PDF solutions available for WordPress. And if you need more features, there are plenty of add-ons available to extend the functionality of E2PDF.
Plus, with the generous affiliate program, you can earn a commission on all new payments made through the plugin.
PDF & Print is the perfect plugin for anyone who needs to quickly create PDF files and print pages from their WordPress website. It's easy to add PDF & print buttons to your pages, posts, and widgets, and you can generate documents with custom styles and data. The plugin also automatically adds PDF & print buttons for certain user roles, so everyone can easily create and print documents.
The plugin allows you to add title and featured image to the document, set custom image size, set PDF document size, and customize document styles. You can also create a PDF that fully copies the page. The plugin is compatible with the latest WordPress version and is RTL-ready.
WooCommerce PDF Invoices & Packing Slips is a great extension for automatically adding PDF invoices to the order confirmation emails sent to your customers. With templates available for customization, you can choose to download or print invoices and packing slips right from the WooCommerce order admin. This is an excellent tool for businesses that want to keep track of their sales and improve customer satisfaction.
The extension automatically attaches invoice PDFs to the order confirmation emails sent to your customers, making it easy to download or print invoices and packing slips right from the WooCommerce order admin. You can also generate PDF invoices / packing slips in bulk, and the plugin provides full support for WooCommerce Subscriptions.
***
The PDF Poster plugin allows you to embed a PDF document on your website with ease. It is perfect for giving detailed instructions, providing entire reports, and much more. Protect them against unauthorized copying and save yourself time by inputting shortcuts the first time around.
PDF Poster is an easy-to-use, user-friendly plugin for embedding PDF files in your posts and pages. It's compatible with WordPress 4 or higher but gracefully degrades when used on a server running lower versions of PHP 5.4 or greater (keeping everything you need for viewing it intact). The plugin supports Gutenberg block PDF Viewer for quickly embedding this type of document in posts and pages.
Its PRO version features a raw PDF viewer that allows you to embed a PDF file without the black viewer frame. You can also prevent copies and downloads, as well as set preset preferences. The plugin also comes with 2 additional Gutenberg blocks, shortcode capabilities, and a sidebar toggle menu in the viewer.