WordPress Gutenberg is a new editor that was introduced in WordPress 5.0. It is the default editor for WordPress and it replaces the old Classic Editor. The main difference between Gutenberg and the Classic Editor is that Gutenberg is a block-based editor.
This means that instead of writing text in one long column, you add blocks of text and images. This makes it easier to create complex layouts and helps you to see how your content will look when it's published.
It is undeniable that Gutenberg has changed the way we work with WordPress. The new blocks system gives power to developers and publishers to create custom layouts for their sites, which can make it easier for people who are not familiar with code.
However, many users have found that using blocks leads to a lot of confusion when they edit the content on their site. This is where Gutenberg Blocks Plugins come in to help.
There are many plugins that add custom blocks to Gutenberg, but we have found the 5 best ones that will help you to create beautiful and functional layouts for your WordPress site.
Why Use WordPress Gutenberg Plugins?
Although WordPress Gutenberg is a new editor, it has already gained a lot of popularity. This is because it offers a lot of advantages over the Classic Editor. Some of the benefits of using WordPress Gutenberg plugins include:
Ease of use: WordPress Gutenberg is very easy to use. It is a block-based editor, so you add blocks of text and images instead of writing text in one long column.
Customization: With WordPress Gutenberg, you can easily customize your content. You can add or remove blocks, change the position of blocks, and add custom CSS to make your content look the way you want.
Layout flexibility: WordPress Gutenberg offers great layout flexibility. You can create complex layouts with ease and see how your content will look when it's published.
Responsive design: WordPress Gutenberg creates responsive designs that look great on all devices.
Improved performance: WordPress Gutenberg is much faster and more reliable than the Classic Editor.
5 Best WordPress Blocks Plugins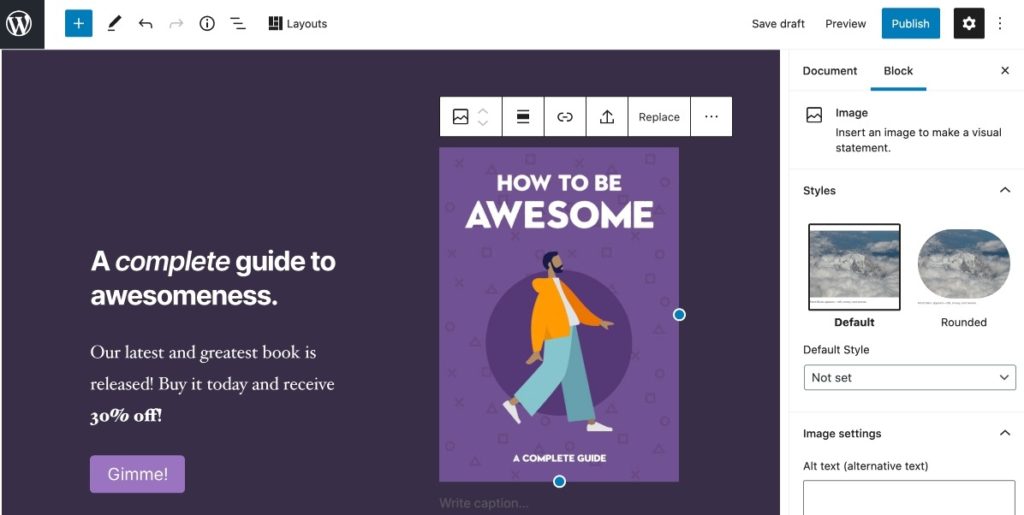 Are you using WordPress's Gutenberg editor to create your pages and posts? If not, you're missing out on a lot of control and flexibility! Genesis Blocks is a collection of blocks for the Gutenberg editor that gives you more power to quickly create the kind of website you want.
With Genesis Blocks, you can quickly create custom page layouts, add engaging content, and get results for your business.
Supported blocks:
Section & Layout Block
Advanced Columns Block
Newsletter Block
Pricing Block
Post Grid Block
Container Block
Testimonial Block
Inline Notice Block
Accordion Block
Share Icons Block
Call-To-Action Block
Customizable Button Block
Spacer & Divider Block
Author Profile Block
Drop Cap Block
GenerateBlocks is a WordPress Gutenberg plugin that gives you the ability to build any page of your site. With its comparative lightweight approach, GenerateBlocks provides an engaging experience without bloating the editor with too many blocks and tangles of content.
You can organize your content into rows and sections with the Container block, create advanced layouts with the Grid block, craft text-rich content with the Headline block, drive conversions with beautiful buttons using the Buttons block, and take total control of your responsive design with the Tablet and Mobile controls.
Best of all, GenerateBlocks is built to work hand-in-hand with the popular GeneratePress theme, but is compatible with any WordPress theme.
Kadence Blocks is another good toolkit for WordPress site owners who want to take advantage of Gutenberg's new block-based editor. With over 15 custom blocks, you can create beautiful content without any coding required!
Advanced features like the Row Layout block make it easy to create complex page layouts, while the Advanced Gallery block lets you easily create stunning photo galleries and slideshows.
If you're looking for an easy way to add forms, testimonials, icons, or spacers to your content, Kadence Blocks is the plugin for you!
With Stackable, you'll get access to dynamic website building with custom Gutenberg blocks. This trusted companion makes it easy to create professional websites that stand out, using ready-made designs, UI kits, and global settings. Plus, you'll enjoy the speedy performance while you build!
With Stackable, you can customize the look and feel of your website easily. You don't need to know how to code in order to make your website look great. Use our easy-to-use controls to change the colors, fonts, and more. You can make your website truly your own!
You can easily change the settings on your website that will apply to all of your pages with the plugin's Global Settings. You can quickly and easily adjust the settings that matter most to you, without having to make changes on each and every page.
PublishPress Blocks is a plugin for Gutenberg that provides you with all the layout options and more so that you can build professional websites easily.
The additional features include Layout Options, Sliders, Buttons, Icons, Image Galleries, Maps Tab Pages, and much more. With 20 blocks to choose from in PublishPress Blocks including Accordions Galeries, Sliders, Tabs, and more, you can build any kind of website you want.
The Permissions block also lets you control who can use each block and the Custom CSS Styles for your blocks lets you add your own CSS styles for blocks which is very handy.
You also get Block Layout and Page-Builder features with 50+ layouts to choose from so you can create any kind of website you want.