5 Best Testimonial Plugins for WordPress in 2023
If you're looking for a way to add more customer testimonials to your WordPress site, then you need a plugin. And there are plenty of them to choose from. So which one is the best? Here are five of the best testimonial plugins for WordPress, based on my own experience.
Factors to Consider When Choosing Testimonial Plugins
When you're looking for a testimonial plugin, there are a few factors to consider. Here are some of the most important ones:
Ease of Use
The best testimonial plugins are those that are easy to use, even for beginners. They should have an intuitive interface and be easy to set up and configure.
Appearance and Customization Options
Your testimonials should match the look and feel of your site, so it's important to choose a plugin with plenty of customization options. These options might include things like different color schemes, fonts, and layouts.
Functionality
Your testimonial plugin should do more than just display testimonials on your site. It should also allow you to manage them easily, such as by adding, editing, or deleting them. And it should provide features like testimonial rotation, so your testimonials are displayed randomly and evenly.
Support
If you have any problems with your testimonial plugin, you should be able to get help from the plugin developer. Look for a plugin that offers good documentation and helpful support forums or contact information.
Price
Of course, price is also an important consideration. There are both free and premium testimonial plugins available. In general, premium plugins will offer more features and better support than free plugins. But if you're on a budget, there are some good free options available as well.
5 Best Testimonial Plugins for WordPress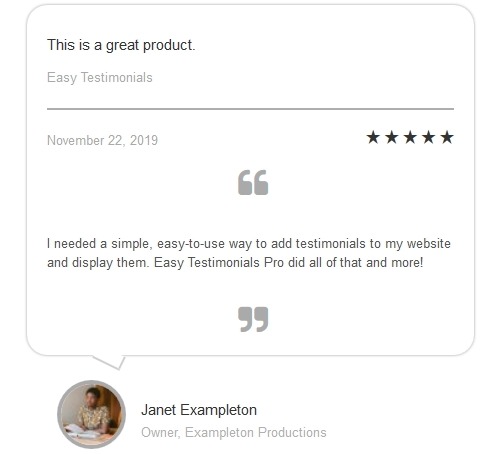 Adding testimonials to your WordPress website is a great way to show off your satisfied customers and their positive experiences with your business. With the Easy Testimonials plugin, you can easily add testimonials anywhere on your website using widgets, shortcodes, or templates.
This plugin supports images, so you can add a photo of the customer who gave the testimonial. In addition, the Easy Testimonials plugin uses schema.org compliant JSON-LD markup, so that your testimonials appear correctly in search engine results pages.
This WordPress plugin helps you create stunning testimonials in just a few clicks. Start by adding a basic shape overlay and one of the beautiful yet simple designs to your page. Some styles have light & dark versions included with them, so if this is not enough for you, customize it further by implementing custom CSS on top or changing some other settings as needed – though that might require some prior knowledge of coding.
You can even let admin users send out emails using the email template system! All your desired fields are automatically added to fill up these templates and all that's left for you is previewing it before sending it on its way for an extra personal touch (and an invaluable marketing asset).
The Real Testimonials Plugin for WordPress is a free, robust solution for tracking all of your contacts and interactions. The marketing tools in the suite make it easy to track your campaigns and see how they are performing. It also gives you access to data so that you can analyze trends and optimize your strategies.
These features allow business owners to determine which avenues are most effective for customer acquisition and to focus their efforts on those channels.
This user-friendly and developer-friendly plugin makes it easy to add and manage testimonials from your customers. It's fully responsive, so your testimonials will look great on all devices, and it offers many variations of grid and slider layouts.
You can also customize the testimonials' fields, style, color, and appearance. Plus, with the Pro version of the plugin, you can control the image size and order testimonials by date, title, or id.
Are you looking for a way to get more testimonials for your products and service? Do you want them to not only be visually appealing but also SEO friendly, with rich snippets of information in Google search engine results?
This plugin will allow you to display the glowing testimonials from viewers of your WordPress site in real-time as reviews or quotes about your product or service. The plugin includes a star rating system and rich snippets/structured data compatible for better SEO ranking.
The testimonials can be displayed as a grid or slider and there are more than 15 layout customization options to choose from. You can also have a front-end submission form so viewers of your site can add their own testimonials.