Best Unreal Engine Game Kits in 2023
Unreal Engine is a game engine developed by Epic Games, first showcased in the 1998 first-person shooter game Unreal. As of 2018, Unreal Engine has been used to develop more than 1,000 games across PC, console, and mobile platforms. It was originally designed for 3D games such as those in the Doom or Quake series.
Why Developers Love Unreal Engine
Variety of Engines
Available Unreal Engine is capable of building games for Windows, Xbox One, PlayStation 4, Nintendo Switch, Virtual Reality platforms such as Oculus Rift and HTC Vive, iOS, and Android devices. With so many platforms supported by the engine, you are sure to find something that works for your project.
Gets Updates Freqently
Epic Games has a data-driven pipeline for releasing updates. This means new features and improvements can be added to the engine on a regular basis. Epic also offers separate products focused on sound, animation, physics simulation, virtual production, and more that work with Unreal Engine 4. These plugins can be purchased alongside the core product or separately in a marketplace.
A Wide Community Base
Unreal Engine is viewed as an industry-standard in the world of game creation. There are many resources available featuring tips and tutorials from across the community.
Users can use forums such as AnswerHub to help each other solve problems related to development while receiving support from developers at Epic Games. The online community is large enough for individuals who want to share their work and projects with others, but it can also be beneficial to those looking for a good source of information.
Consists of Powerful Tools
Unreal Engine offers users tools such as Blueprint Visual Scripting, Content Browser – the place where all the assets in your project are stored, Matinee – a tool that allows you to animate things within your scene using keyframe-based animation and Sequencer – which gives you advanced control over animations and cinematics.
It also includes an advanced AI system called Kismet and advanced rendering features such as physically-based shading, real-time global illumination, Auto Light Map, Post Process Effects, and integrated support for NVIDIA's PhysX.
In addition to these Unreal Engine is constantly growing and adding new features to make it even more powerful and accessible for developers.
Consistent Support from Epic Games
Epic Games is one of the leading teams in the continued development of Unreal Engine 4 and 5. The engine has been regularly updated with new features, bug fixes, and optimizations that continue to improve performance.
Best Unreal Engine Game Templates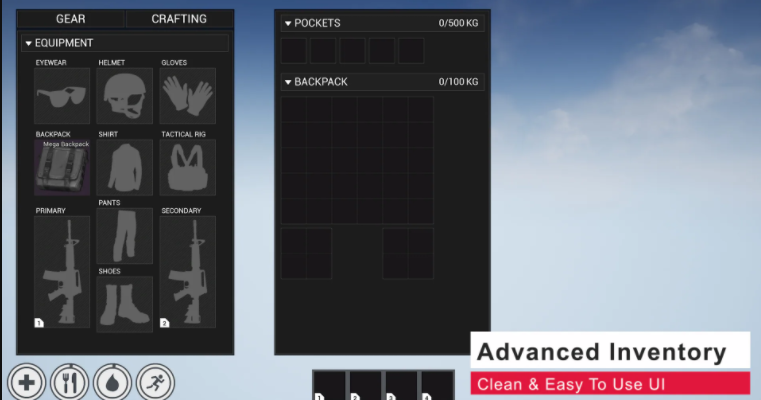 Survival Game Kit V2 is the ultimate tool for creating your very own survival game. This massive update to the original Survival Game Kit comes packed with new features and improvements that will take your game to the next level.
Some of the new features include a "Jigsaw" style inventory system, projectile-based weapons, and a full main menu and in-game menu system. But that's just the beginning!
The Player Building System V2 has also been completely overhauled and rebuilt from scratch for the needs of modern survival games.
With all these new features and improvements, Survival Game Kit V2 is perfect for any developer who wants to create their own survival game or add some serious depth to an existing project.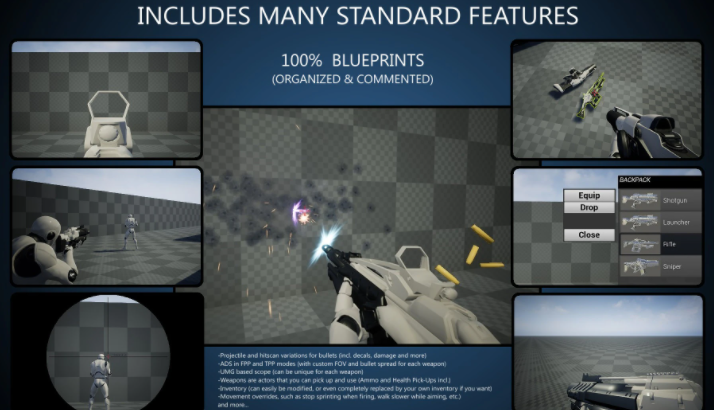 The First-Person Shooter Starter Kit includes everything you need to make your own FPS game in Unreal Engine. This pack includes 2 different perspectives for gameplay, with all the assets and implementations to go with them.
It mixes in stealth mechanics, inventory management system, weapon selection, look-down sights/aiming mechanic, and crosshair options – just to name a few features!
This template will get you started on making FPS games right away without having to spend hundreds of hours creating content designs or importing resources into UDK or Unity game engine!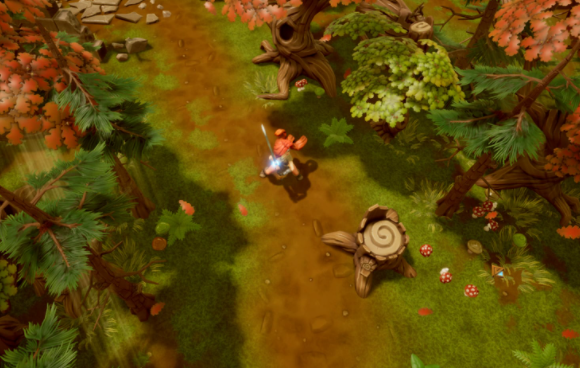 The Top-Down Starter Kit is a great project to help you get started in creating beautiful and unique stylized RPG or RTS games. The stylized character and enemy character are perfect for adding that extra bit of flair to your game, while the trees, plants, and stones give it that natural feel.
The fence, bridges, boat, fires, and firewood all add to the atmosphere of the game and make it more believable. The ruins are a nice touch and really set the scene. The terrain's textures and materials are also done very well and give your game that extra polish.
Not only does this kit come with amazing graphics but it also has wonderful background music and sound effects to create an immersive experience for players.