Top 5 Odoo Modules to Add Sticky Header for ListView in 2023
People love sticky headers. If you don't know what a sticky header is, it's the header at the top of your screen that follows the user down as they scroll through content. It's a great way to keep important information in front of your users while they explore other pages or sections on your site.
But did you know there are some modules already built into Odoo that can help make creating and managing these headers easy? Read on for our list of 5 out-of-the-box modules that will help you create those allusive sticky headers!
When looking for Odoo modules to add a sticky header for listview, there are a few things you'll want to keep in mind.
The first is the type of content you're working with. If you have long lists of items, a module that scrolls with the user may be a better option than one that stays at the top of the page.
Next, think about your user's experience. Will they be using a desktop or mobile device? How will they be scrolling through the content? Different modules work better in different situations, so it's important to choose the right one for your needs.
Best 5 Odoo Modules to Add Sticky Header for ListView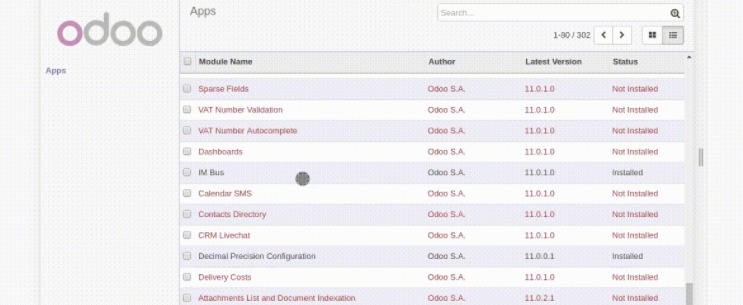 List View Sticky Header is a must-have module for anyone working with long lists of data in Odoo. It ensures that the header remains at the top of the screen, no matter how far down you scroll, which makes it easy to find the information you need.
The Horizontal scrolling of the table header now possible on the horizontal scroll allows users to view all their data in one go, without having to scroll across the page. This module enhances the user experience by making it easier to navigate through long lists of data and helps Odoo users get more done in less time.
The module adds a horizontal header that sticks to the top of Tree View in Odoo. You can have both subtree and master scrolled with this plugin enabled, so navigating your data is even easier! With the ability to see an instantly-focused list, you'll be able to make decisions based on what's most important without any additional effort.
The List View Sticky Header module is especially useful for businesses with long lists of data, as it ensures that the headers are always visible while the customer scrolls.
This makes it easier to find the information they're looking for and keeps them engaged with the business' data. The module is available only for Odoo 15 but can be easily modified to work with older versions of Odoo.
The Freeze Header module for Odoo is a great way to keep track of your headers in list views. It works on every tree view in Odoo, and is useful when you have a large number of records to keep track of.
After enabling the module, we can quickly reach the headers even after scrolling all the way to the end.
It's supported by all browsers without any additional configuration, making it easy to use for everyone.
This module works for Odoo 11+.
This module is the perfect tool for any Odoo user to freeze chatter header, freeze form view header, sticky list view inside form view, or on top of the form views.
Freezing a Chatter header is not always possible? that's because there are so many discussions going at once! Now you can scroll to the bottom of Chatter without having a move Chat Heads as they might be blocking something important. Just Freeze it!
A form can be very busy, with lots of fields and sections. Sometimes you need to see the header and footer, or the status bar, without having to scroll up or down. That's where our Sticky View comes in!