WordPress: TL Bulk Comment Delete
WordPress is one of the most popular content management systems on the web. In order to keep track of user interactions and feedback, WordPress uses a comment system. Comments allow users to leave feedback on a specific post or page. This feedback can be helpful in understanding how readers feel about your content. As a result, it's important to moderate comments so that they are constructive and relevant.
If you're a WordPress user, then you know that comment spam can quickly stack up and take over your blog if you're not careful. That's why it's important to have a tool to help you manage and delete comments in bulk.
And that's where the TL Bulk Comment Delete plugin comes in. This handy plugin makes it easy to delete comments en masse, so your blog stays clean and organized. Plus, it's free! So if you're looking for an easy way to keep your blog tidy, be sure to check out the TL Bulk Comment Delete plugin.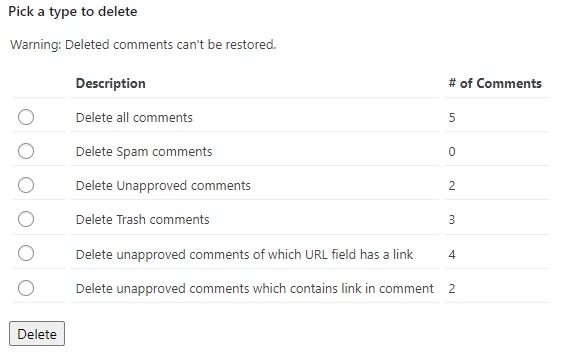 Delete all comments
Delete Spam comments
Delete Unapproved comments
Delete Trash comments
Delete unapproved comments of which URL field has a link
Delete unapproved comments which contains link in comment