How to Make a Lawyer Website
Making a website for your law firm doesn't have to be hard. In fact, with the right tools and resources, it can be downright easy. In this post, we're going to show you how to make a lawyer website in no time flat. So whether you're just starting out or you've been practicing law for years, this post has information for you.
What You Need to Know
Direction
One of the first things you'll need to decide when making a lawyer website is what type of site you want. The answer depends on your goals for the site and how much time and money you have to devote to it. Some options include:
A simple one-page website. This type of site is perfect for lawyers who just want to have an online presence and don't need a lot of bells and whistles.
A more complex website with multiple pages. If you want to showcase your experience and skills, or if you offer multiple services, then a multi-page site might be a better option for you.
A blog. A blog can be a great way to share your thoughts on the law, share case studies, or give advice to potential clients.
Once you've decided on the type of site you want, it's time to start thinking about design. Again, there are lots of options here, but we recommend working with a professional designer to get the look and feel you want.
Aside from the design, you'll also need to make sure your site is optimized for search engines. This means having relevant keywords in titles, subheadings, and content, as well as using backlinks to boost your ranking in search results.
Once your website is up and running, it's important to keep it updated with fresh content on a regular basis. You can do this by blogging regularly or adding new pages when needed. The more useful and informative your website is, the better it will perform both online and offline!
Essential elements
A lawyer's website should include a form for contact information.
A clear and concise explanation of your services.
Your firm's name, logo, address, and phone number are prominently displayed.
Links to your social media accounts.
Professional photos of you and your staff.
Testimonials from satisfied clients.
A blog with fresh content regularly updated.
Tips
Now that you know the basics of making a lawyer website, here are some tips to make sure yours is successful:
Do your research. Before you start building your site, it's important to do your research and figure out what's important to your target audience. What type of information are they looking for? How can you help them? By answering these questions, you'll be able to create a website that's tailored to their needs and more likely to convert them into clients.
Keep it simple. When it comes to design, less is definitely more. A clean, simple design will be much easier for visitors to navigate than a cluttered one. And remember, your content should always be the star of the show—so don't let flashy design elements take attention away from it.
Make sure your website is optimized for search engines. To ensure that your website ranks well in search results, you'll need to optimize it with relevant keywords and use backlinks to boost its ranking. And of course, you'll also want to regularly update your site with fresh content so that visitors keep coming back for more.
Promote yourself online and offline. In today's digital age, promoting yourself online is just as important as doing so offline. Make sure you have a strong social media presence, connect with local groups and organizations, and do whatever else you can think of to get the word out about your services!
Advertising. You can use online advertising to reach people who are searching for lawyers in your area. Google AdWords is a popular option, but there are also many other platforms you can use, such as Bing Ads and Facebook Ads.
Laravel
Scripts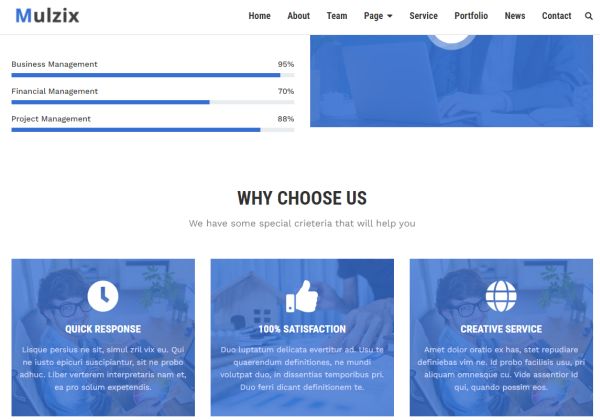 Mulzix is a leading content management system that has quickly gained a reputation for being responsive, easy to use, and highly customizable. Whether you need to build a business website to promote your services, an agency website to showcase your portfolio, or a modern education site to market your curriculum, Mulzix gives you everything you need to get started.
Its user-friendly interface makes it simple for anyone to design and maintain their own website, and with full multilingual support and SEO optimization built-in, your site will be sure to rank high in search results.
Mulzix has been built using the popular PHP framework Laravel. So, it can easily be customized by other programmers. Developers will be able to understand the source code easily and can modify the database and files if needed. Mulzix is also packed with features that will help you run your lawyer's website smoothly and efficiently.
WordPress
Themes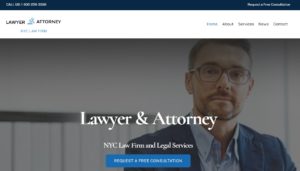 If you're looking for a lawyer website theme that is both powerful and flexible, look no further than Ultra. Created by Themify, Ultra is easy to use and helps you create any site quickly and beautifully. It is also responsive, of course. What's more, Ultra now comes with design skins and pre-made demo sites! Ultra theme has a skin ready for lawyer and attorney website.
The skin not only transforms the site's design appearance but can also help you to set up a real sample site within minutes. With just a single click, you can import the demo setup that includes the theme settings, content, menus, widgets, and more.
Also, it includes a drag & drop page builder that helps you create custom pages without having to touch a line of code. The live preview feature lets you see how your changes look on the site before you publish them.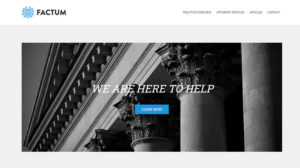 Factum is a great choice for law firms, attorneys, or legal offices. With Factum, you can easily create sections on your landing page to showcase all of the services your firm offers. You can use WordPress-provided blocks along with custom ones to create a beautiful and informative services section for your visitors.
Factum also lets you showcase your team in an engaging way. You can build brief but informative presentations for your lawyers to convince visitors that your firm has the talent required to win their case.
Plugins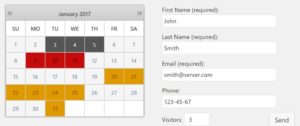 A lawyer's website needs a booking plugin to manage clients. The plugin would allow visitors to schedule appointments with the lawyer or law office. This would make it easier for potential clients to connect with the lawyers they are interested in, and it would also help keep track of appointments.
Its sleek and customizable design is perfect for lawyer's websites, and its easy-to-use interface will keep clients happy. Plus, its responsive front-end and back-end design ensure that lawyers can book appointments and manage their calendars from anywhere. So, whether lawyers are in the office or out of town, they can always stay on top of their schedule.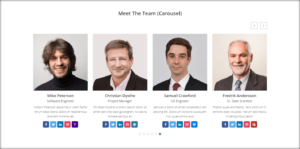 If you're looking for an easy way to add a team or staff members section to your lawyer's website, then WP Team is the perfect plugin for you. With three unique layouts presets and some amazing styling options, you can easily create a great-looking team members section in just a few minutes. The plugin is also versatile enough to be used to display other kinds of content that require an image and text, so be creative!
The plugin is fully responsive and mobile-ready, so it will look great on any device. With three unique layouts to choose from (Carousel, Grid, and List), you can find the perfect way to display your team. And with the Shortcode Generator, you can easily create multiple team shortcodes on one page.
The clean and intuitive settings panel makes it easy to control columns in different devices, total members to display, and much more-no coding required! You can also customize the margin or space between members, the member border, radius, and background color, and show or hide every element of a member. Plus, you can control the social icon position, margin, and shapes.