A jewelry website is a website that specializes in selling jewelry and related items. They may offer a wide variety of items, including rings, necklaces, earrings, bracelets, and watches. They may also carry other types of accessories, such as sunglasses and hats.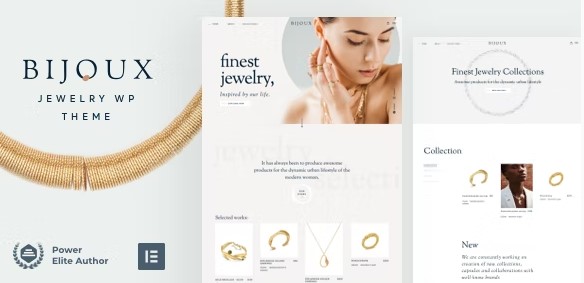 There are many things to consider when setting up a website, from designing the site to choosing the right eCommerce platform. That's why we've put together this curated list of resources to help you make the most of your jewelry website.
Essential Elements of a Jewelry Website
High-quality photos: A website is a powerful tool for any business, but it's especially important for businesses that sell physical products. After all, potential customers can't see or touch your products in person, so it's up to your website to give them a sense of what they're like. And when it comes to selling jewelry, high-quality photos are essential. Professional images will help potential customers see the beauty and detail of your pieces, and they'll be more likely to make a purchase. Even if you already have some great photos, it's worth investing in professional editing to make sure they're high resolution and look their best on your site. With quality photos, you can be sure that your jewelry website will make a great first impression and attract plenty of customers.
A luxurious design: A good design is essential for a luxury jewelry website. It should be easy to navigate, with all the information visitors need to know about the jewelry clearly displayed. The colors and fonts used should be elegant and understated, so as not to distract from the jewelry itself. A well-designed site will give visitors a positive first impression and help your business stand out from the competition.
Product descriptions: A piece of jewelry is so much more than just an accessory; it can be a work of art, a family heirloom, or a symbol of love. When shopping for jewelry online, it's important to have access to all the information you need to make an informed decision. That's why product descriptions are such an essential element of a jewelry website. A good description will provide all the pertinent details about a piece, including materials, sizes, care instructions, and anything else that might be relevant. This way, you can be sure that the piece you're interested in is exactly what you're looking for. With so many options available, detailed descriptions are a must-have for any jewelry website.
Easy checkout: A key element of any successful jewelry website is easy checkout. Customers should be able to easily find the items they want to purchase and complete the checkout process with a minimum of effort. To ensure a smooth checkout process, choose an eCommerce platform that is simple and secure. This will give customers confidence that their personal information is safe and that they will receive their purchase promptly. By providing an easy, stress-free checkout experience, you will encourage customers to shop with you again in the future.
A shipping provider: Shipping is an important part of any eCommerce business, and it's especially important for businesses that sell physical products. To ensure that your customers receive their purchases promptly and without any problems, it's essential to set up a shipping provider. There are many shipping providers to choose from, so be sure to research the options and find one that offers the services you need at a price you can afford. Once you've selected a shipping provider, be sure to set up your account and add all the necessary information to your website. This way, customers will know exactly what to expect when they make a purchase from your site.
WordPress
Themes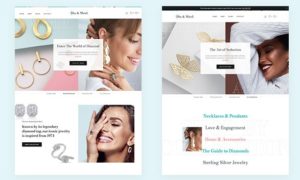 If you're looking for a luxurious and classic WooCommerce theme for your next jewelry, luxury goods, or watch store project, then you need to check out Diamind. It's a good WordPress eCommerce theme for entrepreneurs and website development companies or freelancers who want to build a fast and efficient way eCommerce project in the jewelry, watches, and luxury goods industry.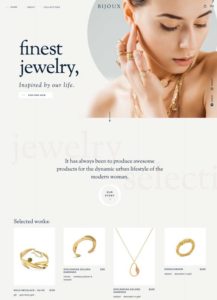 Bijoux is a WooCommerce theme for jewelry and other stylish handcrafted goods. This modern and clean theme is easy to use and perfect for beginners. With its purpose-oriented design, Bijoux is suitable for anyone with an interest in stylish and elegant products, whether you're a seasoned developer or just getting started. With Bijoux, you can sell anything from watches to clothing to art, easily and effortlessly.
This powerful theme includes everything you need to get started, including Elementor frontend builder, an extensive setup guide, support for WooCommerce integration, and more. Plus, Bijoux is built for fast performance, so your website will load quickly on all devices.
The developer provides a thorough guide and 23 HD video tutorials make it easy for even beginners to get started. This theme requires Elementor.