Casual games are typically defined as games that are easy to learn and can be played in short bursts. They tend to have simple mechanics and goals, and can be enjoyed by players of all ages and skill levels. Many casual games can be played for free, or for a very low price, making them an accessible and affordable form of entertainment.
Hyper casual games are a subgenre of casual games that are characterized by their fast pace and highly addictive gameplay. They are often described as "snack-sized" or "bite-sized" games that can be quickly consumed and enjoyed in short bursts.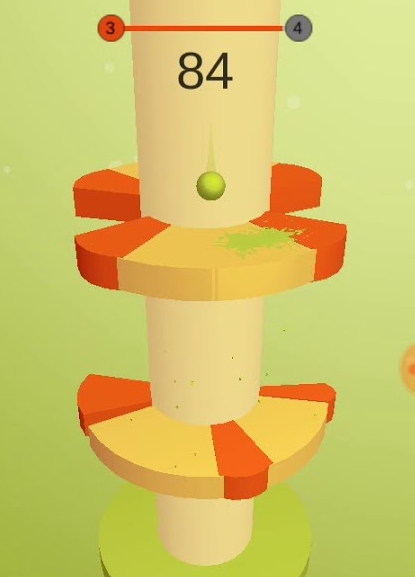 While there is no one formula for making a hyper casual game, there are some elements that are common to most successful examples. In general, hyper casual games are easy to learn and play, have simple controls and mechanics, and are highly addictive.
If you're looking to make a hyper-casual game, you've come to the right place. In this post, we'll curate a list of resources that will help you get started. We'll also provide some tips on how to make your game stand out in this highly competitive genre. So let's get started!
Essential Elements
Super simple gameplay: The gameplay should be easy to understand and execute. There are no complicated rules or controls- just simple, straightforward fun.
Addictive: Hyper casual games are designed to be addictive. They should be highly replayable and keep players coming back for more.
Short and sweet: Keep your game sessions short and sweet. Players should be able to pick up and play your game in a matter of seconds and put it down just as easily when they need to.
Focused on one core mechanic: hyper casual games typically focus on one core mechanic or goal. This makes the gameplay easy to learn and understand, while still providing enough challenge to keep players engaged.
Visually appealing: The visuals should be eye-catching and engaging. Hyper casual games often use simplified graphics and colorful visuals to attract players.
These are just a few of the essential elements that are common to most successful hyper casual games. Keep these in mind as you start developing your own game.
Steps to Get Started
Now that you know what goes into making a hyper casual game, and how to make your game stand out, it's time to get started on your own project. Follow the steps below to get started.
Find your niche: There are thousands of hyper casual games out there, so it's important to find a way to make your game unique. One way to do this is to focus on a specific niche or theme. This could be anything from sports games to puzzle games to cooking games. Find something that you're passionate about and use it to inspire your game.
Choose your platform: The next step is to choose the platform you want to develop your game for. There are many different platforms available, including iOS, Android, web browsers, and more. Select the platform that makes the most sense for your game and your target audience.
Choose your tools and resources: Once you've selected a platform, it's time to choose the tools and resources you'll need to develop your game. There are many different game engines and programming languages available, so do some research to find the ones that are best suited for your needs.
Start developing your game: Now it's time to start bringing your game to life! Use the tools and resources you've selected to start building your game. Remember to keep the essential elements in mind as you work, and focus on making your game unique.
Test and refine your game: After you've developed a playable version of your game, it's time to put it through its paces. Playtest your game and gather feedback from friends and family. Use this feedback to refine your game and make it the best it can be.
Launch your game: Once you're happy with your game, it's time to launch it to the world! Submit your game to app stores or web portals, and start promoting it to potential players. With a little luck, your game will be a hit!
Unity
Assets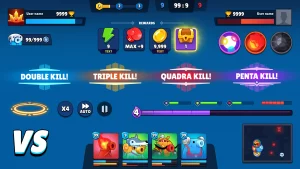 GUI PRO Kit - Casual Game is a UI asset that gives you everything you need to create your own casual style games. With over 2700 sources as PNG files, you'll have plenty of options to choose from. You also get 320 pictogram icons, 90 unique item icons, and 60 rune icons. Plus, the PSD file is included so you can edit the images to your liking. With all of these resources at your disposal, you'll be able to create a casual game that looks great and is fun to play.
Gamekits
Stunt Game Kit -Race Game Kit - Ramps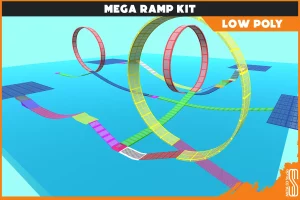 The Stunt Game Kit is a game template that provides all the ramps you need to make your parcour or racing game more exciting. With 15 different colors and 7 low poly ramp types, you can create a variety of course designs to keep your players engaged. The kit also includes 3 different textures to help add variety to your game. With a total of 315 ramps, the Stunt Game Kit has everything you need to make your game fun and thrilling.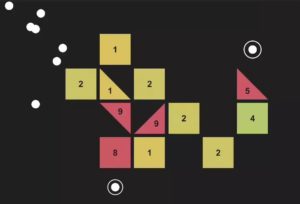 BallX is an engaging infinite brick breaker game template that is ready for release. It is optimized for mobile (iPhone, iPad, Android, Windows Mobile) standalone (Windows PC and Mac OSX), web player, and webGL. This pack includes a spawn pool system (quick and easy object pooling script) and an input touch and mouse input controller using event delegates for mobiles.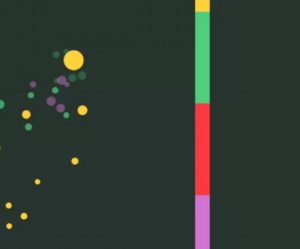 Color Ballz is a one-touch game that is both flappy and fun! With sleek, minimalist graphics, the game is easy to play but also tests your reaction time and reflexes. In Color BallZ, you must navigate your way through the designated color in which your dot is. If you are successful in passing through the obstacle, your dot's color will switch. Quick reaction time is key, as making a mistake will result in starting over.
Hyper casual games are generally easy to play and don't require a lot of time or effort to get into the game. They also typically have simple graphics and controls, making them easy to understand. If you're looking for a template that will let you create a fun and engaging hyper-casual game, the Ballz template is a great option.
Construct
Game Templates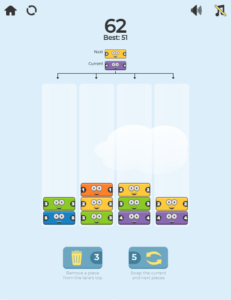 Mergis is an HTML5 Casual Game source code. The goal of the game is to release the Mergis so that they match each other when they have the same number. Choose a lane to release, and merge them vertically. Some power-ups can help you. Score the highest possible!
This is a great game for anyone who loves puzzles, as it requires quick thinking and strategic planning in order to achieve a high score. With beautiful graphics and addicting gameplay, Mergis is sure to keep your users entertained for hours on end. Pick this game kit if you plan to release your first casual game in Construct 3.