A hotel website is a website that provides information about a hotel, including room rates, the location of the hotel, and the amenities that are offered. It can also be used to book rooms online.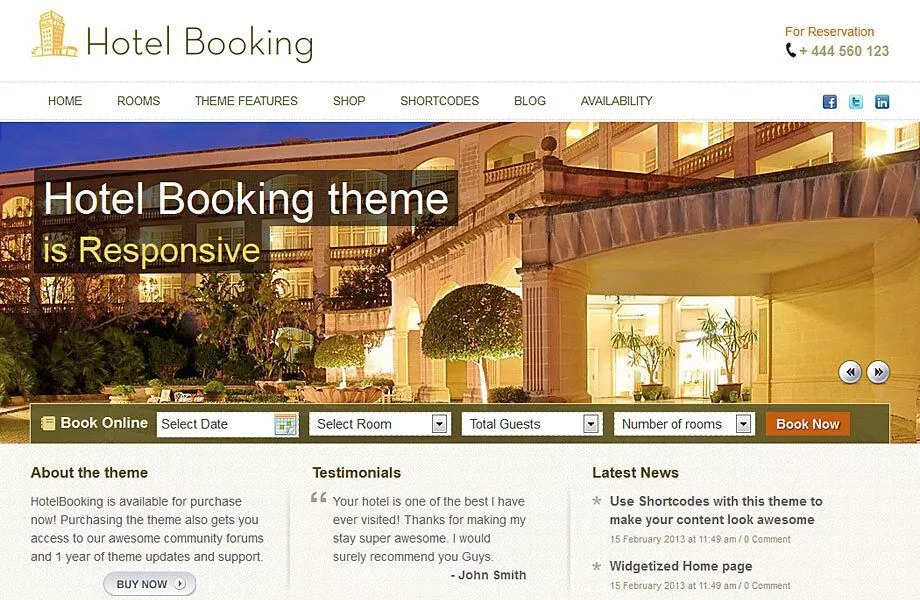 If you're looking to create a hotel website, you'll want to make sure you have all the essential elements in place. In this blog post, we'll provide a curated list of resources to help you get started.
Essential Elements of a Hotel Website
A Homepage That Makes a Good First Impression
Your homepage is often the first point of contact between you and a potential guest. As such, it's important to make sure your homepage makes a good impression. Here are some things to keep in mind:
Use high-quality images that accurately represent your hotel.
Write clear and concise copy that tells visitors what your hotel is all about.
Use an effective call to action (CTA) to encourage visitors to book a room.
An Easy-to-Use Booking Engine
Your booking engine should be easy for visitors to use so they can book a room with ease. Here are some things to keep in mind:
Make sure your booking engine is mobile-friendly so guests can book on the go.
Use clear and concise copy to explain the booking process.
Offer a variety of payment options so guests can choose their preferred method.
Detailed Information About Your Rooms
Your website should provide detailed information about each of your rooms, including photos, descriptions, and pricing. Here are some things to keep in mind:
Use high-quality images that accurately represent each room type.
Write clear and concise copy that describes each room in detail.
Include pricing information so guests know how much each room costs.
A Comprehensive FAQ Section
Your FAQ section should be comprehensive and cover all the most commonly asked questions about your hotel. Here are some things to keep in mind:
Include a variety of questions that cover all aspects of your hotel.
Use clear and concise copy to answer each question thoroughly.
Add a search function so guests can easily find the answers they're looking for.
Guest Testimonials
Guest testimonials are a great way to build trust and credibility with potential guests. Here are some things to keep in mind:
Use testimonials from past guests who have stayed at your hotel.
Include positive reviews from popular travel websites like TripAdvisor.
Add a photo of each reviewer to add a personal touch.
WordPress
Themes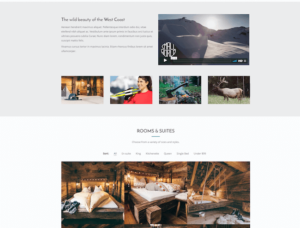 The Bellevue Hotel WordPress Theme is a good choice for your next website project. It comes bundled with one of the best hotel booking plugins available and includes several WordPress booking calendar add-ons.
With over 400 unique page layouts to choose from, you can customize everything to create a website that's perfect for your hotel or vacation rental business. From top to bottom, each beautiful concept may be quickly modified by you. All you have to do is click a button from the Bellevue dashboard to get started.
This theme is packed full of features that will help you turn your website into a powerful marketing tool. The bundled slider revolution, groovy mega menu and master slider plugins make it easy to create beautiful and engaging presentations of your hotels.
The WooCommerce integration lets you sell rooms and services online, while the formidable forms integration allows customers to book reservations directly from your website.
Events calendar integration ensures that potential guests always have access to up-to-date information about what's happening at your hotel, while the 50 layered Photoshop files + 5 stylized logos give you plenty of design options.
Multi-language support means that you can easily create a website that caters to guests from around the globe, and Masonry-style blog categories present your content in an attractive way. Display rooms grid on room custom post type pages for easy browsing by potential guests, or use the built-in Google fonts selector to choose from 1000+ web fonts.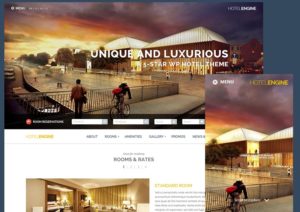 Creating a website for your hotel doesn't have to be difficult - with HotelEngine, you can create a stunning website quickly and easily, without any coding required. Our themes are responsive and designed specifically for hotels, so you can create a site that looks great on all devices. Plus, our built-in booking form makes it easy for guests to book rooms directly on your site.
Here are some of the features that HotelEngine offers:
General settings: Manage all of your site's important information in the admin area, such as the website title, description, social links, and more.
Front page slider: A hero slide has the ability to make a strong first impression on your visitors, which is why it's such a useful tool.
Built-in booking forms: These forms are ready on your site so that your visitors may easily begin making reservations right away.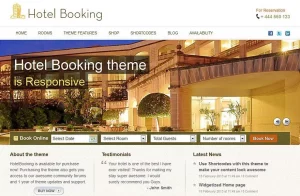 If you're in the business of hospitality, then you know how important it is to have a sleek, responsive website that draws in customers and makes booking easy. The HotelBooking WordPress theme is perfect for businesses like hotels, bed and breakfasts, and guesthouses.
It comes with a powerful booking system that lets you manage reservations directly from your WordPress dashboard.
You can also customize the booking form to add or remove fields as needed. The booking form can be readily modified from the dashboard. From the dashboard, most of the form fields can be modified. Plus, the theme is fully responsive and looks great on all devices.
Plugins
WordPress Hotel Booking Plugin by MotoPress
The MotoPress WordPress Hotel Booking plugin is a good plugin for booking in the hospitality business.
This plugin includes everything you need to manage an independent property booking WordPress website: a property management system, a booking engine, a channel manager, online payments, finance, and more. All-in-one solution for your own property rental WordPress site.
With unlimited accommodations and services to list, as well as direct online reservations and synchronization across OTAs, you'll be able to keep your business running smoothly and efficiently.
You can list as many places to stay and undertake various services as you want, accept online reservations, and synchronize bookings across OTAs. There is no charge for each booking or property.
Whether you run a hotel, vacation rental, apartments agency, hostel, or any other type of hospitality establishment, this plugin will help you manage your reservations and bookings like a pro.
VikBooking is a powerful yet easy-to-use booking engine that is now available for WordPress as a native plugin. With VikBooking, you can create different room types, set pricing models, and manage availability with ease. VikBooking also offers a wide range of integrations, making it easy to connect with your other business applications.
Some of the unique features include custom rate plans, room types and sub-units management, availability calendars and occupancy overview, bookings management, and more. Plus, its front-end is totally customizable, so you can create a booking process that meets your specific needs. And if you need help getting started, the developer team is here to support you every step of the way.