Making a blog is a great way to share your thoughts and ideas with the world. But it can be tricky to get started if you don't know where to begin. In this post, we'll walk you through the basics.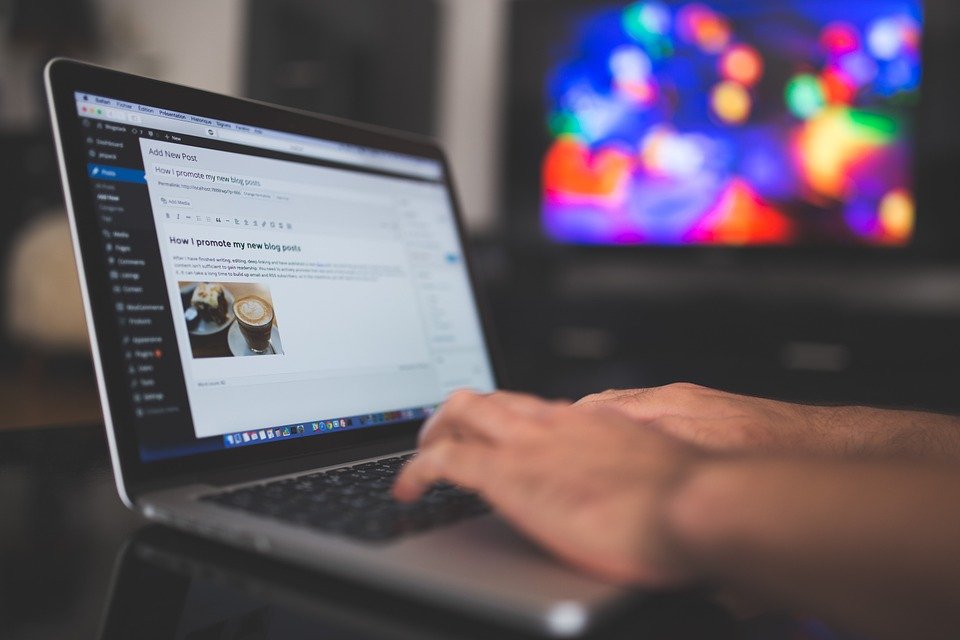 What You Need to Know
Steps to get started
There are a few simple steps you need to take to get started with your own blog:
Choose a blogging platform. WordPress, Medium, and Blogger are all popular choices.
Pick a domain name for your blog. This is the URL people will use to find your site.
Find a web host. This is where your website's files will be stored.
Design your blog. This includes picking a theme and adding content such as posts and pages.
Promote your blog. Once you have everything set up, you'll need to let people know about your site so they can start reading your content!
Essential elements of a blogging platform
When you're looking for a blogging platform, there are a few key features you should keep in mind:
Ease of use: The platform should be easy to use so you can focus on creating content instead of wrestling with the technical side of things.
Flexibility: You should be able to customize your blog to match your unique style.
Rich media support: A good platform will let you easily add images, videos, and other media to your posts.
Integrations: The platform should play well with other tools and services you use, such as social media networks.
Personal Touch: A great platform will make it easy to add a personal touch to your blogs, such as a custom logo or background image.
Tips to create a successful blog
Once you've gotten started, there are a few things you can do to help your blog succeed. Some of these tips include:
Creating high-quality content
Creating high-quality content is essential for any blog. You need to provide your readers with valuable information that will help them solve a problem or improve their lives in some way. This content should be well-written, informative, and interesting to read.
In order to create high-quality content, you need to do your research and make sure your facts are correct. You should also take the time to write a clear and concise article that is easy to understand. And lastly, be sure to proofread your work before publishing it.
When creating content for your blog, it's important to mix things up and add different types of media. This can help keep your readers engaged and make your content more interesting to read.
One great type of media to add is video. Videos can be a great way to share your thoughts and ideas with your audience, and they can also be fun to watch. If you're not comfortable making your own videos, you can find videos from other sources to embed on your site.
Another great type of media to add is infographics. Infographics are visual representations of data that can be helpful for explaining complex concepts. They can also be used to simplify statistics and make them more interesting to read. If you're not sure how to create an infographic, there are plenty of online tools that can help.
Engaging with your readers
In order to engage with your readers, it's important to respond to their comments and questions. This shows that you are engaged with your audience, and it can help build relationships that will encourage your readers to continue following your blog.
Another great way to engage with readers is by staying active on social media. You can share links to your latest posts and interact with followers by responding to their comments or sharing content from other blogs in your niche.
Ask readers questions is also a good method. This can be done in the comments section of your blog or through social media. Asking questions helps you get feedback from your audience and learn more about what they want to see from you.
Building relationships
To grow and succeed as a blogger, it's important to build quality relationships with other bloggers in your niche. There are many different ways you can do this, such as collaborating on joint projects like guest posts or roundups, attending industry events, or simply interacting on social media.
Having strong relationships with other influencers in your niche will not only help build your audience but can also help establish yourself as an authoritative voice within your field.
These relationships can help you grow your audience and reach a wider audience of readers. So don't be afraid to reach out and make connections with other bloggers in your field!
Maintaining an active social media presence
Social media is a powerful tool that can help you grow your blog and connect with a larger audience. By sharing your content on social media, you can reach more people and encourage them to visit your blog.
Additionally, interacting with followers on social media can help build relationships that will encourage them to keep following your blog. You can also connect with other bloggers in your niche by participating in discussions or sharing content from their blogs.
Overall, social media is a great way to engage with your audience and promote your content. So be sure to make use of all the different platforms available to you!
Learning SEO
Search engine optimization (SEO) is the process of optimizing your blog content to rank higher in search engines like Google. When people search for keywords related to your content, you want your blog to appear as high up on the results page as possible.
This can be a complex topic, but there are a few basic things you can do to improve your SEO. First, make sure your blog is using appropriate keywords throughout your content. You can use tools like Google AdWords Keyword Planner to research relevant keywords.
Another important factor is the title and description of each blog post. Be sure to include keywords in these elements, as they help tell search engines what your article is about. You should also make sure your website is mobile-friendly, as this is a factor that can affect how your content is ranked.
WordPress
WordPress is a content management system (CMS) that enables you to create a website or blog from scratch or to improve an existing website.
There are many reasons
It is a free and open-source blogging platform.
It is used by millions of people around the world, including many large organizations, such as The Guardian, Forbes, and The New York Times.
It is very versatile and can be used for a wide variety of websites and applications.
It is easy to use and has a large community of users and developers who can help you if you need assistance.
It is a great way to get started with making your own website or blog without having to learn HTML or CSS.
Plugins
There are a variety of plugins available for WordPress that can help you manage the content and add more features to your blog. Some of these plugins are listed below:
Wordfence is the leading WordPress security plugin. With over 2 million installs, Wordfence is the most popular security solution for WordPress. Wordfence includes an endpoint firewall and malware scanner that was built from the ground up to protect WordPress.
The Web Application Firewall blocks malicious traffic, while the malware scanner checks core files, themes and plugins for malware, bad URLs, backdoors, SEO spam, malicious redirects and code injections.
The built-in 2FA authentication is one of the most secure forms of remote system authentication available, making sure that only authorized users are able to access your site. The Login Page CAPTCHA feature also stops bots from logging in, further protecting your site.
Backups are important, but they can be a pain. UpdraftPlus makes it easy. Just set it up and forget it. It's the world's highest-ranking and most popular scheduled backup plugin, with over three million currently-active installs.
It's super easy to use – just install the plugin and set up automatic backups to your preferred cloud storage option (including Dropbox, Google Drive, Amazon S3, etc.)
UpdraftPlus backs up to more cloud options than any other plugin, so you can always be sure your data is safe. You can also set up automatic backup schedules, for the ultimate convenience. Plus, UpdraftPlus is faster and uses up fewer server resources.
The SEO Framework is the perfect tool for optimizing your website for search engines. It follows all the white-hat guidelines and rules set by WordPress and other search engines, so you can be confident that your website is being correctly optimized. The plugin is also clean, dedicated, extensible, unrestricted, ad-free, and very easy to use. With The SEO Framework, you can easily improve your website's ranking on search results pages and attract more visitors.
The developers of The SEO Framework understand that small to large businesses need a reliable and easy-to-use SEO tool, which is why they created this accessible plugin that seamlessly integrates into your dashboard. With The SEO Framework, you don't need to worry about making common mistakes that can hurt your website's ranking - the plugin takes care of everything for you.
If you're looking for a powerful and easy-to-use form builder, look no further than Fluent Forms. Thanks to its pre-built templates and drag-and-drop form builder, it's perfect for setting up all types of forms with ease.
With Fluent Forms, you can build responsive and mobile-friendly web forms and contact forms with ease. The form builder also supports smart conditional logic and spam protection with Google Recaptcha. You can also customize the placeholder text for your contact form fields. Best of all, the forms are reusable, so you can use them for any type of form you need.
The best WordPress plugin for creating sliders is Smart Slider 3. It's a very effective and simple program. You can produce gorgeous sliders without any technical knowledge. The software is also mobile-friendly and search engine optimized (SEO).
Smart Slider 3 provides an easy way to create sliders without having to write any code. The plugin comes with a variety of features such as a Slide Library, media manager, shortcode, widget, and post permalinks. Smart Slider 3 is totally integrated with WordPress and makes it easy to create beautiful sliders that are responsive and SEO optimized.
MailPoet allows you to create, send, manage, and grow your email marketing campaigns without leaving your WordPress dashboard. With MailPoet, you can add a newsletter subscription form to your website, manage your subscribers and subscriber lists in WordPress, and build and send newsletters with WordPress.
MailPoet also allows you to create automatic emails to send new post notifications and automated welcome emails. In addition, MailPoet offers behavior-based and interest-based subscriber segmentation options, pre-built, and customizable email and subscription form templates, and WooCommerce emails. MailPoet is the ideal solution for all of your email marketing needs.
Site Kit is a Google WordPress plugin that aids in the understanding of how people find and use your website. Site Kit makes it easy to set up, maintain, and utilize important Google tools so that your website has a high conversion rate online. Site Kit includes Search Console, Analytics, AdSense, and PageSpeed Insights. Search Console helps you understand how Google Search discovers and displays your pages in Google Search.
You can track how many people saw your site in search results, and what query they used to search for your site. Analytics helps you explore how users navigate your site and track goals you've set up for your users to complete. AdSense keeps track of how much your site is earning you through ads. PageSpeed Insights measures the performance of your website on mobile devices and desktops. Site Kit is a valuable tool for anyone with a website so that they can better understand how their users interact with their site and improve their conversion rate.
AddToAny Share Buttons helps people share your posts and pages to many different social media sites. These sites include Facebook, Twitter, Pinterest, LinkedIn, and Tumblr. AddToAny's JavaScript requires no programming and is compatible with all major browsers and devices.
Asynchronous loading of AddToAny ensures that your site loads quickly. AddToAny has official share counts from more than 60 networks including Facebook, Twitter, Pinterest, LinkedIn, and Tumblr. Its icons are vector line icons for pixel-perfect designs at any size and its smart icon technology chooses the best service for each visitor.
Themes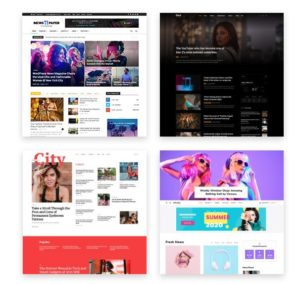 Newspaper is one of the most popular WordPress themes on the market. With its ease of use and wide range of features, it's no wonder that so many people have chosen the Newspaper for their blog or news site. In addition to being perfect for blogging,
Newspaper is also great for e-commerce, shopping, store, WooCommerce, news, newspaper, magazine, publishing, or review site. With over 135+ prebuilt websites included in the Newspaper Theme, there's sure to be a perfect fit for your project.
The Newspaper theme also includes tools for composing beautiful blog posts and WordPress pages, prebuilt elements and layouts to deploy on your site, header and footer builders, opt-in forms, and gated content for subscribers, WooCommerce shop builder, Instagram, bbPress, and BuddyPress integrations.
Over 120,000+ happy customers trust Newspaper Theme with their blog, news, magazine, and business projects - why not join them today?
Wix
Wix is a popular hosted platform that offers an easy-to-use drag & drop website builder. This solution is ideal for small businesses that want to build a professional website without any hassle. Plus, you can easily add a blog to your website by adding the Wix Blog app. This app lets you write posts, manage your blog content, and even add photos and videos. Plus, it's completely free to use!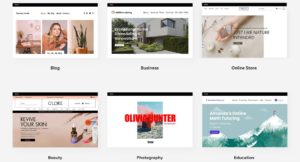 The Wix blog platform is easy to use and offers a lot of customization options. You can choose from a variety of templates, and then customize them to match your brand. Plus, you can add photos and videos to your posts to make them more engaging. And if you want to get more traffic to your blog, you can use the Wix SEO Wiz to optimize your site for search engines.
With Wix, you can customize your site using dozens of templates and third-party apps. Wix requires no coding skills and setup is quick and easy. You can choose from over 500 designer-made templates for every business. Wix is a popular choice for those looking to build a website with no coding required.
The cons are you have to upgrade to a premium account to remove the Wix watermark and add more plugins/apps to your website. Also, Wix is not as flexible as WordPress and other open-source platforms.
Ghost
Ghost CMS is a simple, beginner-friendly blogging platform that is perfect for setting-up your own blog, media, or newsletter. With its clean interface and easy-to-use features, Ghost makes it easy to get started with your own website. Ghost's primary focus is on blogging, and they have kept the interface and features simple on purpose.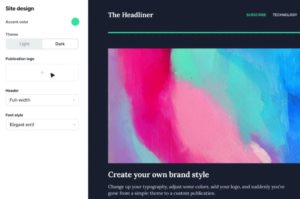 This makes their site easy to use for beginners and keeps their interface clean and free of clutter. Ghost also offers thousands of themes and advanced integrations to help you customize your website or blog to fit your needs.
Ghost's editor has been built from the ground up for professionals, with advanced workflows by default. The interface is calm by design and allows users to immerse themselves in the story with an interface that's invisible until you need it, and powerful when you do.
Ghost's editor makes it easy to create a website that's perfectly suited for modern writers by providing the tools you need to tell your story with rich media and dynamic cards. You can easily add image galleries, videos, audio files, and product info boxes to your articles.
Webflow
Webflow is a great choice for those who want to create custom websites and web applications. It's easy to use and has a wide range of features, making it ideal for both beginners and experienced developers. You can use Webflow to create responsive websites, e-commerce stores, landing pages, and more. Plus, with its built-in CMS, you can easily manage your content without having to code.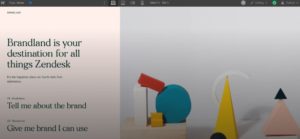 It provides an intuitive drag-and-drop interface for creating website layouts, as well as a rich set of tools for adding and manipulating content. Webflow also offers the ability to connect to third-party data sources, making it a powerful platform for creating dynamic web applications. Best of all, Webflow's visual design tools can be used to create responsive, mobile-friendly websites that look great on any device.
Webflow is powerful, yet easy-to-use, CMS that lets you edit your content right on your live website. There's no need for a separate dashboard or clunky interfaces. Just click on the element you want to edit, make your changes, and hit publish. Webflow also makes it easy to manage your website's visual hierarchy.
It offers different packages divided into Site Plans and eCommerce Plans. The former is best for simple or content-driven websites and larger, high-traffic marketing sites while the later is best for powering a no-code ecommerce business.