5 Best YouTube Plugins for WordPress in 2023
This post will show you the 5 best YouTube plugins for WordPress that are currently available on the market. These plugins will help you get more views and subscribers to your channel and videos, while also increasing conversions on your website.
These five plugins have been tested by myself or other Youtube plugin developers who I trust and they work well together in terms of functionality and results.
Why Add Youtube Videos to a WordPress Site?
Adding a video from YouTube to your WordPress site is an excellent idea for several reasons. It can help you:
Get More Views: By adding a video from your channel to your website, you're giving viewers another avenue to watch your content. This means more potential views and subscribers for your channel.
Increase Conversions: A video on your website can also help increase conversions. A study by Video Brewery showed that adding a product video to your website can increase conversion rates by as much as 80%.
Make Your Site More Engaging: let's face it, people love watching videos. Adding videos to your WordPress site will make it more engaging and enjoyable for visitors.
Now that we know why you should add YouTube videos to your WordPress site, let's take a look at the best plugins for doing just that.
5 Best YouTube Plugins for WordPress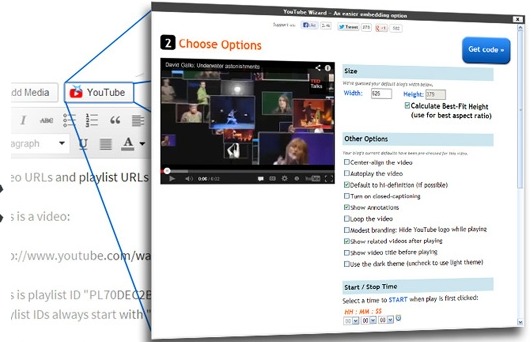 Embed Plus is a YouTube WordPress plugin that will allow you to embed and customize your YouTube videos. You can choose to embed the video in its natural size, or mouse over it and watch it grow.
This plugin also offers modifications like showing different types of playlists, channels, and live streams on your site rather than just one single video. It works with any kind of custom post type, has a facade with lazy loading (which increases performance) as well as deferring JavaScript while serving minified CSS and JavaScript.
This plugin allows lazy loading of videos with Lite youtube embeds that appear like normal embedded Youtube when clicked on but only show up as a fat player when clicked on – making both download size & rendering time substantially less expensive than using standard embedded Youtubers which call for a request for every instance where there's more than one video on the same page (not counting comments).
LYTE support has been cached locally – meaning no requests to the Youtube servers are necessary – so this could potentially allow for better GDPR compliance.
With the Video Gallery – YouTube Gallery plugin, you can easily create a powerful and beautiful video gallery on your WordPress website. This plugin is designed to be displayed clearly and neatly on any screen size, no matter how small your device screens are. It automatically adjusts to fit on that screen and looks great. The plugin was created for those who appreciate beauty and taste. You can display your videos in high quality and with the best design.
The Video Gallery – YouTube Gallery plugin has many powerful features, including a user-friendly editor, sleek lightbox, 16 free themes, beautiful hover effects, responsive and touch-friendly interface, 9 gallery layouts, video lightbox effect, hover effects, gallery pagination, and unlimited shortcode generator. It also supports all major WordPress versions, multiple categories for viewing videos, and YouTube, Vimeo, Wistia, and MP4 formats.
The plugin is also designed to work smoothly with your existing HTML and CSS code, making it a great choice for responsive layouts. Plus, you can add custom links to single videos in gallery views. Speed, effects, locations, and more are all customizable.
With Feed Them Social Premium, you can get creative with the ways you showcase your favorite YouTube videos. This extension for Feed Them Social will give you additional options for Facebook Pages, Video albums, Photo Albums, Instagram, Twitter and YouTube. You can choose how many posts, pictures, tweets, or videos to show in your custom feeds and many other options.
Feed Them Social Premium includes everything you need to create shortcodes for custom feeds. You can copy and paste it onto any page or use our new widgets. It's that simple! With one plugin, you can create a star stream of celebrities or friends lists, etc.
Feed Them Social Premium is the perfect plugin for anyone that wants to display their social media content on their website in a beautiful way. This plugin is also great for businesses that want to show off their customer feedback on Youtube, Twitter or Facebook.
Youtube features:
YouTube Users Recent Uploaded Videos
YouTube Users Specific Playlist of Videos
YouTube Channel Videos
YouTube Channel's Specific Playlist of Videos
Thumbnail videos open in a nice popup.
Choose how many videos per column.
This feed has a max of 50 posts per shortcode.
With Envira Gallery, you can create beautiful photo and video galleries with just a few clicks. It's perfect for photographers looking to showcase their work and buyers who want to get a more in-depth look at the products they're considering purchasing.
The drag-and-drop gallery builder makes it easy to customize the appearance of your gallery by choosing from one of the many pre-built templates. And with social media integration, you can easily share your galleries with your friends and followers.