5 Best WordPress Plugins for LinkedIn in 2023
LinkedIn is one of the most popular social networking platforms for professionals. It's a great place to connect with colleagues, clients, and other business contacts. But did you know that LinkedIn can also be a powerful tool for your WordPress website?
There are a number of WordPress plugins that can help you make the most of LinkedIn. Here are five of the best:
Benefits of WordPress Plugins for LinkedIn
Share your content on LinkedIn
One of the most useful things you can do with a WordPress plugin for LinkedIn shares your content on the platform. This can help you drive traffic back to your website and promote your content to a wider audience.
Connect with other professionals
LinkedIn is a great place to connect with other professionals. With a WordPress plugin, you can easily find and connect with potential clients and collaborators.
Grow your LinkedIn network
A WordPress plugin can also help you grow your LinkedIn network. By connecting your website to LinkedIn, you can make it easy for people to find and follow your business page.
Increase your visibility on LinkedIn
If you want to increase your visibility on LinkedIn, a WordPress plugin can help. By sharing your content on the platform, you can get more eyes on your business and build your brand awareness.
Get more leads from LinkedIn
Finally, a WordPress plugin for LinkedIn can help you get more leads from the platform. By making it easy to share your content and connect with other professionals, you can increase your chances of generating new business.
5 Best WordPress Plugins for LinkedIn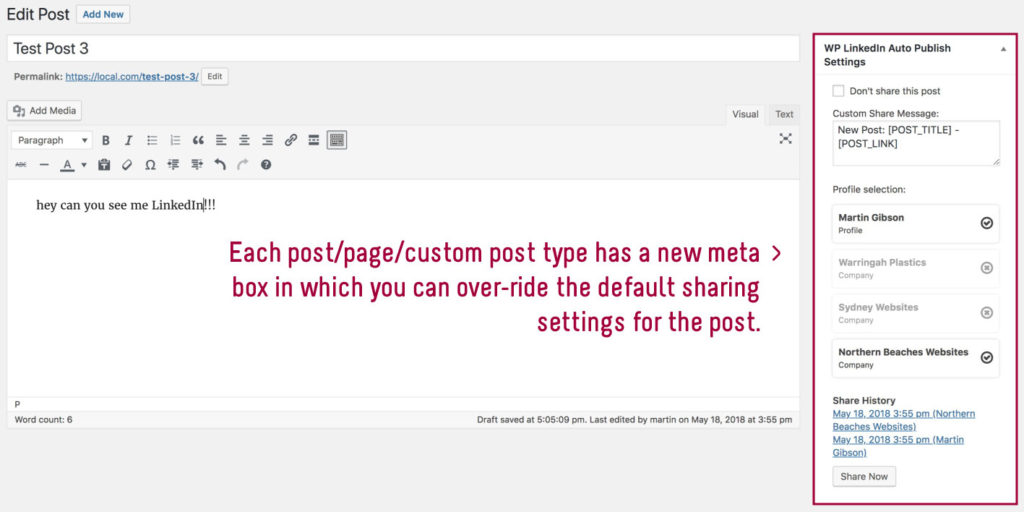 WP LinkedIn Auto Publish is an essential tool for WordPress bloggers who want to share their content with their LinkedIn audience. The plugin automatically publishes posts, custom posts, and pages to your personal LinkedIn profile and/or company pages that you are an administrator of.
This not only saves you time, but it also ensures that all of your content is easily accessible to your LinkedIn followers. The plugin is simple, lightweight, and free- making it a must-have for any WordPress blogger looking to expand their reach on LinkedIn.
WP to LinkedIn Auto Publish lets you publish posts on LinkedIn automatically! With this plugin, it's as easy as going through your queue of draft content and selecting the post to be published.
You can publish these as text only or as text with an attached image—your decision. If you want to tailor the content before sharing it, there is a function that filters posts based on custom post-types and categories.
LinkedIn is a powerful social networking site that can be used to help promote your brand and website. The best WordPress plugin for LinkedIn is Best WebSoft's LinkedIn, which adds Follow and Share buttons to your posts, pages, or widgets.
This makes it easy for visitors to Like and Share your content on LinkedIn, boosting your brand's visibility online. You can also customize the appearance of the buttons as well as configure settings and enable other advanced options to promote your public profile!
Looking for an easy, comprehensive way to connect your WordPress site to social media? Look no further than Easy Social Share Buttons! This powerful plugin offers stunning design options, intuitive features, and compatibility with over 50 social media networks.
You'll give your website visitors a fast, easy and effective way to engage with your content and share it with their followers on social media. Plus, you'll enjoy insightful analytics and first-class mobile support.
FS Poster is a social media scheduling tool that allows marketers to share content on Facebook, Instagram, LinkedIn, and Twitter. The recent update also includes Pinterest as an advertising platform. Users can also schedule posts directly through WordPress or bulk-schedule multiple posts with FS Poster's own calendar function for even more precise curating of content about the business.
It supports 15 popular social networks, including visual sharing platforms like Pinterest, and offer users features such as unlimited post sharing and the creation of custom posts for each account–all from one place! Real-time analytics gives you deep insights into your postings' performance by analyzing your strategy based on site traffic measurements, post engagements, clicks subjects specific pages being read.