5 Best WordPress Cache Plugins to Speed Up a Site in 2023
If you're running a WordPress site, then you know how important it is to keep your pages loading quickly. A slow site not only frustrates visitors but can also hurt your search engine ranking.
WordPress is a powerful and flexible platform, but it can be slow. Sometimes the simplest solution to speed up your website is by using a WordPress cache plugin.
A cache plugin stores a copy of your pages and posts on the server so that they can be served up quickly without having to generate them each time someone visits your site.
There are many different cache plugins available for WordPress, but the following are five of the best.
Factors to Consider When Choosing WordPress Cache Plugins
When choosing a WordPress cache plugin, there are a few factors you'll want to consider.
How well does the plugin work with your current setup? Some plugins work better with certain themes or hosting configurations than others.
How easy is the plugin to use? A good cache plugin should be easy to set up and use.
How frequently does the plugin need to be updated? Some plugins require frequent updates, while others are more stable.
Does the plugin have any known compatibility issues? Some plugins can conflict with other plugins or WordPress themes.
How much does the plugin cost? Most cache plugins are free, but some do have paid options.
5 Best WordPress Cache Plugins to Speed Up a Site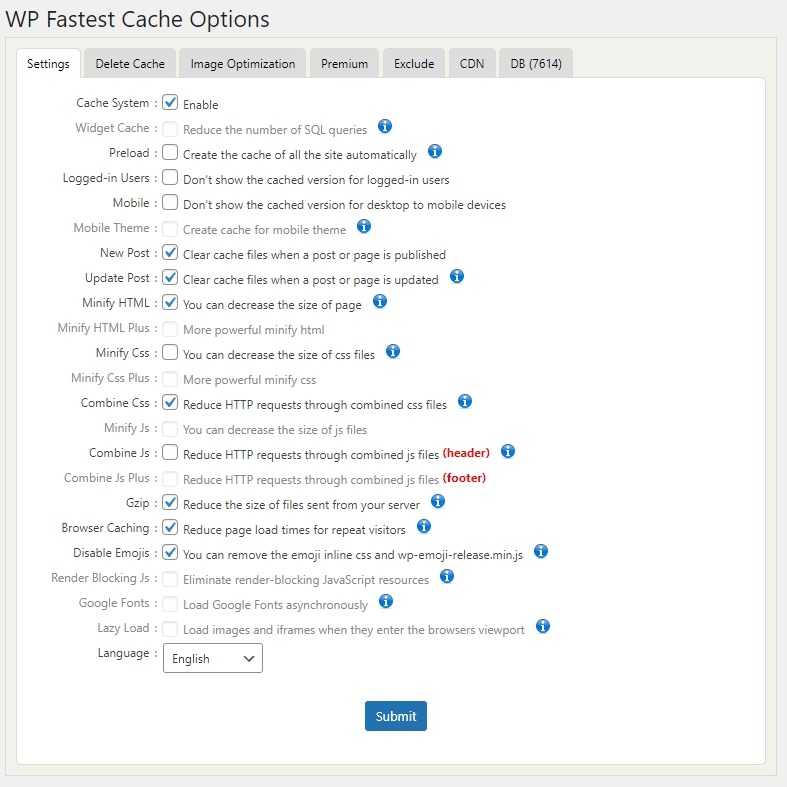 This powerful tool makes use of mod_rewrite – which is the fastest method – to quickly and easily cache all of your pages and posts. What's more, all cache files are automatically deleted when a new post or page is published.
It supports Cloudflare and offers a host of other features, such as the ability to delete minified CSS and JS files from the options page and to block cache for specific pages or posts. You can also set a timeout for all cached files, or for specific pages. Cache files can be excluded for mobile devices and logged-in users, and there's even SSL support.
And if you ever need to clear out the cache manually, there's an easy-to-use WP-CLI command. Plus, the plugin supports SSL and Cloudflare setups, as well as CDN integration.
LiteSpeed Cache is a free, robust solution that speeds up your site while protecting against crawling and hacking. LiteSpeed Cache plugin offers increased security and improves user experience with less loading time.
With LiteSpeed cache in place, visitors will always load the most recent version of your content even if they come back to your website at a later date or visit via social sharing.
With this plugin you can automatically update visitors with the most recent content, reflect browser cache changes instantly, load CSS asynchronously, serve cross-origin fonts thankfully without jQuery library refreshing page each time a request is made by client-side scripts running on web browsers.
It features:
The fastest caching engine that outperforms the competition.
Cache preloading for faster page loading.
Supports HTTP/2 and SPDY 3.1 for even faster page loading.
Compatible with WordPress Multisite.
Efficient handling of AJAX requests.
Automatically purge cache on post publishing, saving, and updating.
Integrated CDN support.
And many more.
WP-Optimize is another five-star cache plugin in the WordPress directory with over one million active installations. The cache plugin allows you to clean and optimize your database, compress images, cache pages for faster load time.
It does it in three clever ways allowing beginners to simply choose which is best for their use case or configure the settings themselves.
W3TC is one of the most popular WordPress caching plugins, and for good reason! It can speed up your site by leveraging features like a content delivery network and the latest best practices. This plugin is compatible with shared hosting, virtual private/dedicated servers, and dedicated servers/clusters.
Plus, it has a transparent content delivery network management with a media library, theme files, and WordPress itself. And if you're looking to boost your mobile site's performance, W3TC also supports Accelerated Mobile Pages (AMP).
It supports mobile devices by caching pages by referrer or groups of user agents, including theme switching for groups of referrers or user agents. Plus, it caches (minified and compressed) pages and posts in memory or on disk, or on a content delivery network. And it caches (minified and compressed) CSS and JavaScript in memory, on disk, or on a CDN.
Speed up your website with the WP Super Cache plugin! This powerful and popular cache plugin can generate static HTML files from your dynamic WordPress blog, resulting in faster loading times for your visitors.
This plugin is popular because it has three caching modes. "Expert" mode is the fastest, but you have to modify the .htaccess file to use it. This mode is good for developers and people who want more control over the caching process. However, it might not be ideal for all users.
With over two million active installations, WP Super Cache is the most downloaded cache plugin from the WordPress directory – so you know it's good!