Auctions are a great way to get rid of unwanted items, and with the help of a good WordPress auction plugin, they can be easy to set up and manage. There are a number of different plugins available, each with its own set of features. In this post, we will introduce five of the best WordPress auction plugins.
When looking for a WordPress auction plugin, there are a few factors to consider. Here are five of the most important:
Ease of Use – The plugin should be easy to set up and use. It should be intuitive so that you can start auctioning items right away.
Functionality – The plugin should have all the features you need to manage your auctions. This includes things like setting a starting price, adding images, and setting a closing time.
Design – The plugin's design should be visually appealing and fit in with your website's theme.
Compatibility – The plugin should be compatible with the version of WordPress you are using.
Price – The plugin should be affordable, and there should be a free version available if possible.
5 Best WordPress Auction Plugins
Auction plugins are popular among WordPress users because they allow them to create online auctions for their products and services. There are a number of different auction plugins available, but the five that are the most popular are: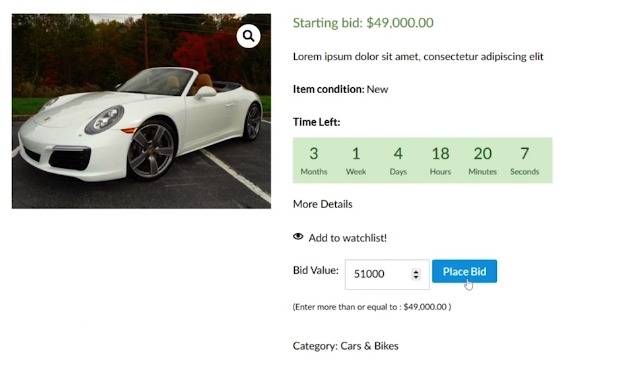 Its simple and flexible design makes it easy to use, while its wealth of features ensures that you can configure it to meet your exact needs. The Ajax admin panel allows for easy management of your auctions, while the PayPal-ready payment settings make it easy to take payments.
The ability to upload multiple product images ensures that your auctions look great, while the timezone settings allow you to run auctions in your own time zone. The email notifications keep bidders and admins up to date with all auction activity, and the countdown timer creates a sense of excitement and anticipation for your customers.
Finally, the lightbox feature ensures that your auction images are displayed in the best possible way.
WP Auctions is a revolutionary plugin that allows you to host auctions on your WordPress-powered blog or website completely free! This plugin is perfect for those looking to save money on listing and final value fees. With WP Auctions, you can set your own rules and preferences for each auction, including setting a global Bid increment value. You can also allow only registered users to bid on your items.
THe plugin features assigning an auction to any post type, so you can embed them into your blog posts or pages. You can also upload an extra image to help showcase your item. There is a range of other features which are constantly being updated, so be sure to check out the plugin page for more information.
WP Auctions is definitely a plugin worth considering for anyone looking to start hosting their own auctions.
Adding Auction Nudge to your website is the perfect way to increase traffic and sales from eBay buyers. With nearly 200 million active buyers, there's a good chance that your target market is among them.
Auction Nudge makes it easy for you to reach these buyers with tools that let you display your active eBay listings on your website. You can choose which listings to show, and how they're presented.
This plugin lets you add Auction Nudge to your posts and pages. You can use it as a widget or shortcode or directly from your theme.
If you're looking to add some excitement to your online store, then you need to check out the YITH Auctions for WooCommerce plugin. This plugin lets you create auctions similar to those on eBay, giving your customers a chance to get products at advantageous prices.
You can also use this plugin to sell unique and refined products without diminishing their market value. Plus, by setting a minimum start price, you can increase your profit margin.
Finally, the scarcity and competition principles will make your ad hoc product, such as a custom or out-of-stock item, unmissable to your customers.
This plugin allows you to easily create auctions for your products, adding a new level of excitement and intrigue for your customers. With support for both normal and reverse auctions, as well as sealed (silent) auctions, there's something for everyone. Plus, with the ability to configure a wide variety of settings, you can create the perfect auction experience for your customers.
And that's not all – WooCommerce Simple Auctions also comes with a host of other features, including:
Seamless integration to WooCommerce – you get a new type of WooCommerce product type – auction
Ability to verify credit card / payment details before the user can bid
Anti snipping feature (extend auction end time when someone places a bid say 30 seconds before auction end, configurable)
Elementor support
Works with any payment gateway supported by WooCommerce
Normal, reverse and sealed (silent) auctions
Proxy / auto bidding
Define start price, price increment, reserve price, buy it now price
Set start and end time for the auction
Easily control how you want to display auctions
And many more
This amazing plugin offers you the ability to create professional auctions in minutes with your existing WordPress website or eBay clone; setup takes only several minutes and it's ready to go.