5 Best Typography WordPress Plugins in 2023
Typography is the use of typefaces in a particular way to create the desired effect. In web design, good typography can be used to make the text more readable and help to organize content on a page.
If you're a blogger, then you know that the importance of good typography can't be overstated. After all, the text on your website is what communicates your message to your readers. That's why it's so important to choose the right WordPress plugins for typography. There are tons of them to choose from, but not all of them are equally good.
In this article, we'll look at the best WordPress typeface plugins that let you use custom fonts, add subtitles, style, and more.
5 Best Typography WordPress Plugins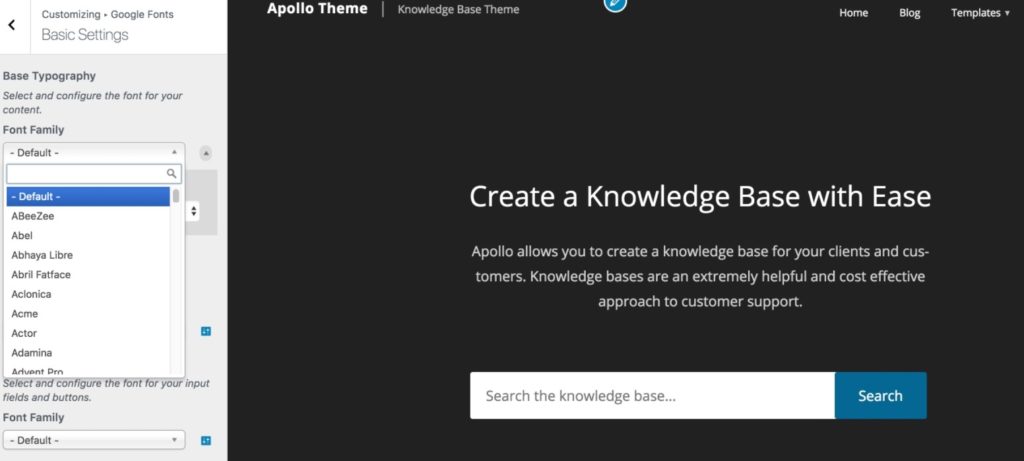 With this plugin, you can find and install any font without having to type out the URL or do anything manually, allowing you to easily change fonts throughout your website. You are not stuck with one font for the entire website; you can select different fonts such as one for headings and another for content so that nothing is monotonous on the website.
Some of the features of this Fonts plugin are:
Live Customizer Preview: With this feature, you can easily preview the fonts before making any changes.
Over 1000 Google Fonts to choose from: You are not limited to a few fonts; with this plugin, you have access to over 1000 fonts that you can easily use on your WordPress website.
Adobe Fonts (Typekit) Integration: If you are an Adobe Fonts (Typekit) subscriber, you can easily integrate it with this plugin.
Works with any WordPress Theme: No coding is required and it works with any WordPress theme without any issues.
Easy One-Click Updates: You can easily update the plugin with just one click.
Translation Ready: The plugin is translation ready and you can use it in any language.
SSL and HTTPS compatible: The plugin is compatible with both SSL and HTTPS.
Efficient Font Loading using a single request: This efficient font loading uses a single request which helps in reducing the page load time.
SEO-Friendly: The plugin is SEO-friendly and helps in improving the website ranking.
Tested with PHP7: The plugin has been tested with PHP7 and it works without any issues.
Selective Font Loading: You can selectively load the fonts which help in reducing the page load time.
Preconnect Resource Hints: This feature helps in connecting to the resources which further helps in reducing the page load time.
Host Google Fonts Locally: You can host Google fonts locally on your website which helps in improving the page load time.
Upload Custom Fonts: If you want, you can also upload your custom fonts with this plugin.
Typography Settings: You can change the font size, weight, color, and line height of the text with this plugin.
Thus, by using any of these best typography WordPress plugins, you can easily improve the website design and make it look more professional.
Google Fonts is a library of over 600+ fonts that you can use on your website without any coding required. This plugin integrates with the WordPress Customizer so you can see how the fonts will look on your site before you make any changes. You can also create custom font controls to control how certain CSS selectors look, and these controls are instantly available in the Customizer preview.
This makes it easy to change the look of your website with just a few clicks. Plus, the plugin automatically enqueues all stylesheets for your chosen google fonts so you don't have to worry about editing your theme's main stylesheet.
The WP-Typography WordPress plugin can help you to customize your typography for blog posts, pages, headlines, and paragraphs. The free plugin is perfect for designers who want the flexibility and power of customizing their typography without writing a single line of code.
It provides a host of options for customizing your text, including adding hyphenation rules, automatic character replacements, and spacing controls. You can also add CSS classes and hooks for styling specific text elements. This allows you to fine-tune your text to look exactly the way you want it to.
WP-Typography is an open-source plugin so it's always being developed with new features and enhancements.
Have you ever searched for a plugin to increase the font size when styling your WordPress sites?
Zeno is currently the best option on the market. It has everything a plugin should have: Javascript and jQuery, settings saved in cookies, an admin interface so that it can be implemented quickly and easily into any theme. Zeno's simplicity makes this plugin a top choice for anyone looking to increase the font size on their website.
OMGF is a WordPress plugin that uses the Google Fonts Helper API to cache fonts, thereby reducing DNS lookups/requests and speeding up your website.
This performance-driven plugin also allows you to remove resource hints pointing to fonts.googleapis.com or fonts.gstatic.com, ensure text remains visible during Webfont load, and reduce the file size of your fonts and stylesheets.
Additionally, OMGF Pro users can set a fallback font stack, replace font families with system fonts, and Ensure text remains visible during webfont load.