7 Best Multi-Author Management Plugins for WordPress in 2023
Blog posts are a great way to stay relevant, build your brand and rank higher in search engine optimization.
But it can be difficult when you have multiple authors posting on the blog. How do you keep track of all the new content? Where do you find time to edit and publish everything? What if someone forgets to post something or does something wrong?
That's where multi-author management plugins come in. These WordPress plugins are designed to help you manage multiple authors on your blog, website, or online magazine.
Must-Have Multi-Author Management Plugins for WordPress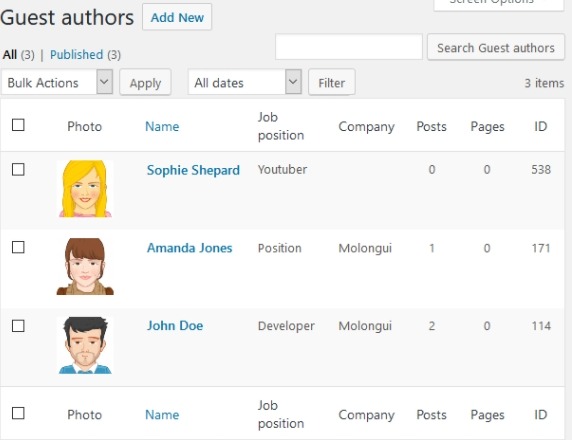 This plugin makes it easy to properly credit your authors and contributors for their work. It's quick, easy, and hassle-free – plus, it's fully customizable so that you can make it look exactly the way you want it to on your site.
If you're running a magazine or newspaper, then Co-authors is the plugin for you. It allows you to credit multiple authors for a single post, which is great for when there are multiple contributors involved.
And last but not least, Guest Authors is perfect for when you need to add a guest author or one-time contributor to a post without having to create a WordPress account for them. This plugin makes it easy and hassle-free.
If you're looking for an easy way to manage your users' roles and permissions, PublishPress Capabilities is a great option. This user role editor plugin lets you customize each role to match the exact permissions your site needs. You can hide any features on the Gutenberg or Classic Editor screens, making it easy for authors to write posts.
You can use it to manage all the permissions on your WordPress site, from administrators and editors to authors, subscribers, and custom roles. Each role can have the exact permissions that your site needs.
If you are a blogger or writer, then you know the importance of co-authors. Co-Authors Plus is the perfect plugin for managing multiple authors on your WordPress site. With this plugin, you can easily add bylines to your posts and pages without creating user accounts. You can also list co-authors anywhere you would normally list the author.
WP User Frontend is the perfect plugin for WordPress websites that want to give their users the ability to create and manage content from the frontend of their website.
This plugin includes a powerful frontend editor, dashboard, and publishing system that allows your users to easily create and manage posts, profiles, and memberships without having backend access. You can also easily add unlimited fields to your forms using the PRO version of this plugin.
At a business, it is not just the CEO or manager that needs to pay attention in order to see growth and success. Multi-author sites can be controlled by one person in content alone, but without a plugin like List All Posts by Author within WordPress, administrators will struggle with managing posts into different subcategories as they deviate from their workflow.
List All Posts by Author is a great tool for managing content on a website that has multiple authors. This plugin enables you to display all of the posts written by each author in an easy-to-read format, complete with post dates and titles. You can also use this plugin to create an index of all articles published on your site, which is perfect for news sites or blogs that have a lot of content.
One of the coolest things about this plugin is that you can use it to create a list of all posts in a particular category. This is great for websites that have a lot of content, as it allows you to easily find all articles related to a specific topic.
In the modern world of business, it pays to know your customers. You need to have a 360° view of them and their needs so you can provide relevant content that speaks to what they are interested in. This is where User Role Editor comes into play by giving you full control over which capabilities each user role has access to on your WordPress website!
User Role Editor is a simple, powerful plugin that allows you to edit user roles and capabilities with ease. Whether you're adding new roles or editing existing ones, User Role Editor simplifies the process by allowing you to do it in one place without installing additional plugins. Support for Multisite is added as well!
If you're looking for an easy way to add user-submitted posts to your WordPress site, then look no further than User Submitted Posts. With this plugin, you can quickly and easily add a frontend form that enables your visitors to submit posts and upload images.
You can also choose which fields to display on the post-submit form, and receive email notification alerts for submitted posts.