WordPress is a popular content management system that has been used to power millions of websites. It's versatile, easy to use, and can be customized to fit the needs of any business or individual. And thanks to its open-source nature, there are plenty of plugins available to add additional features and functionality.
One area where WordPress really shines is in the area of learning management systems (LMS). In this article, we'll take a look at five of the best plugins for WordPress that can be used to create and manage online courses.
Features to Look in an LMS Plugin
Course Management: The ability to create and manage courses is essential for any LMS plugin. It should be easy to add new courses, lessons, and modules, as well as to assign students to specific courses. Tracking progress and grades is also important, so the plugin should have a built-in grade book.
Student Management: A good LMS plugin should also include features for managing students. This includes the ability to track student progress, assign grades, and generate reports.
eCommerce: A good LMS plugin should also include features for selling courses and/or individual lessons. This can include the ability to accept payments via PayPal or other methods, as well as to generate invoices and track payments.
Multimedia Support: One of the benefits of online learning is the ability to use multimedia content. A good LMS plugin should support audio and video files, as well as images and other types of media.
Quiz and Gaming: A LMS plugin should also include features for creating quizzes and incorporating gaming elements into courses. This can help to keep students engaged and motivated.
5 Best LMS Plugins for WordPress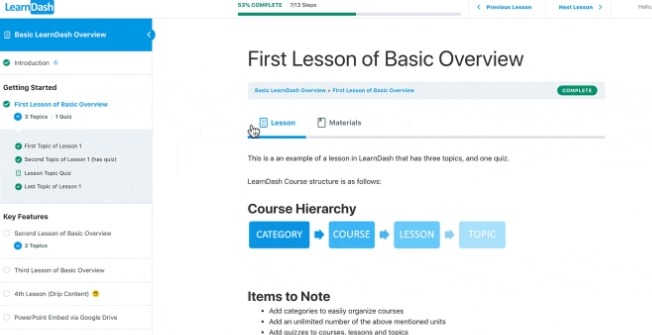 The plugin allows you to have complete control over your course, including the way in which it is priced, and the different payment methods you can use.
You can also set reminders for when courses need to be renewed, as well as add certificates, quizzes, and homework assignments. Plus, if you have a large user base, then you'll appreciate the robust user management features included in LearnDash.
With LearnDash, you can quickly create and administer online courses without any restrictions. You have control over every aspect of your course, including the focus mode, branding, quiz questions, and delivery. The drag-and-drop course builder makes it easy to create professional-looking courses that are interactive and engaging.
The quizzing engine is a top-of-the-line and offers eight different question types as well as the ability to create custom messages and question banks. You can also drip-feed content to learners or require videos to be viewed before progressing to the next lesson.
Prerequisites can be set for learners so that they can only access content based on their level of knowledge.
LifterLMS is a course builder for WordPress that makes it easy to create beautiful, multimedia-rich online courses. With powerful features like dynamic quizzes and support for multiple payment options, LifterLMS helps you make the most of your online learning opportunities.
Whether you're looking to create a one-time course or set up a full-blown membership site, LifterLMS has you covered. With built-in tools like discussion areas, course reviews, and testimonials, you'll be able to increase your signups and keep your students coming back for more.
Students can download ebooks, PDFs, audios, and other files to support their offline learning, while instructors can track student progress and create certificates of completion. With LifterLMS, you'll have everything you need to create and manage your online courses.
With Tutor LMS, creating and managing your eLearning courses is easier than ever before! The drag & drop interface makes it easy to create lessons, quizzes and assignments.
You can control the learning path with Course Content Drip. The stylish course detail and listing pages are perfect for showing off your courses.
And with different layouts to choose from, your courses will look amazing! You can choose different layouts to make your course catalog and course details pages look great. You can set your preferred column per row, course filters, and more.
WP Courseware is a WordPress plugin that allows you to create courses with ease and style. You can use drag-and-drop simplicity to insert videos, PDFs, and other course materials in in-tour lesson plans.
With built-in shopping cart capabilities, payment gateway support, and subscription options, you have full control over how you sell courses.
It also provides advanced features like eCommerce integration for an easy checkout experience. And if you're looking for customer support, you'll be able to contact their offshore business hours team instantly when the need arises.
This comprehensive WordPress LMS Plugin makes it easy to create and manage your courses with a user-friendly interface. You can easily export and import your courses, and even sell them with many billing methods supported.
Plus, its BuddyPress module makes it easy to communicate with your students or instructors via the WordPress forum.
LearnPress is free and will always be. The developers believe education should be available to everyone, therefore they built LearnPress as a means for you to create and distribute online courses. They promise to continue to improve it as long as possible, making it better and better.