5 Best Job Board Plugins for WordPress in 2023
A job board is a website that allows employers to post job vacancies and job seekers to post their resumes.
The two most common types of job boards are paid and free. Paid job boards typically require users to pay a subscription fee, while free job boards typically require users to complete a registration process that includes submitting their resumes.
There are many WordPress plugins that allow you to create a job board. This post is a review of the best job board plugins for WordPress. These plugins will help you set up an easy-to-use, attractive and effective website that matches your business needs. It also includes some information about what these plugins are capable of and how to use them.
5 Best Job Board Plugins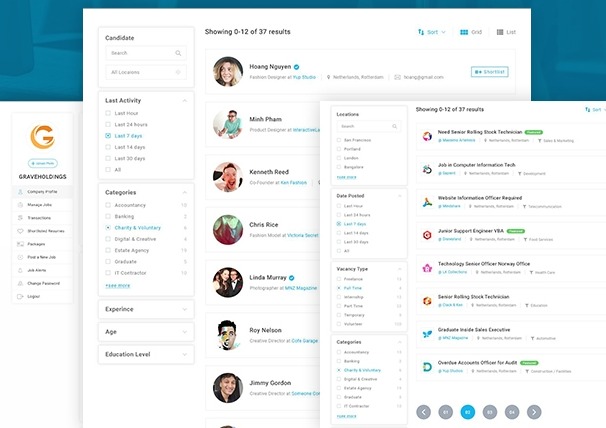 Job searching can be a time-consuming and tedious process, but with WP Job Search you'll never have to worry about that again. The plugin automatically displays jobs from any website in your network without having their data outdated thanks to the automation of it all!
It is a highly customizable and easy-to-use plugin that will allow you to set up your very own job board in no time! With an extensive admin interface, demo import, and no coding knowledge required, you can have your job board looking exactly the way you want it in no time.
The plugin is responsive and retina ready, so it will look great on any device. And, there are tons of page templates to choose from, so you can create a job board that is perfect for your needs.
It is WooCommerce compatible and WPML Plugin compatible, so you can easily sell products and services on your job board. With powerful sorting options for job listings and resumes, you can easily find the perfect job or employee.
It also pays the commission when someone clicks on one job listing over another which makes sure there is always fresh information available for everyone who needs work done around the home or abroad.
This premium WordPress offering comes packed with features that enable you, as an employer or hiring manager can easily create and display jobs on demand. You'll also be able to manage resumes like never before; form submissions are a snap too thanks in part because of this intuitive design framework – no more forgetting whose turned in what by when it comes time for interviews (yikes).
WPJobBoard streamlines the process by allowing you to post jobs, accept applications, and manage communications all from one location. The easy-to-use drag and drop editor makes it simple to add new fields or reorder existing ones. And if you need help, the support next plugin on our list is called WPJobBoard.
Adding job-board functionality to your WordPress site is a breeze with WP Job Manager. The plugin is simple to set up and can be customized to match the look and feel of your website. With features like front-end forms for submitting and managing job listings, as well as searchable and filterable ajax powered job listings, WP Job Manager is a must-have for any WordPress site looking to add job-board functionality.
With every created listing tied to an email or website address, WP Job Manager makes it easy for job seekers to apply to the jobs they find. Plus, with RSS links included in the search results, job seekers can be alerted to any new jobs that match their criteria.
The plugin is developer-friendly, with Custom Post Types, endpoints, and template files included. This makes it easy to tweak and customize the plugin to fit the specific needs of your website.
Adding a job board to your WordPress website is a great way to help connect talented people with the right employers. WP Job Openings is one of the most simple and easy-to-use plugins for setting up a job listing page. It comes with two modern layouts, clean and user-friendly designs, and unlimited filtering options. You can also customize email notifications and templates. The plugin is also developer-friendly, with lots of hooks for extending its functionality. It's been tested with more than 50 top WordPress themes and plugins.
It can list applications, show recent jobs, and include job expiry options. The plugin is also SEO-friendly, with structured data for better search engine visibility. If you're looking for an easy way to add a job board to your WordPress website, WP Job Openings is a great option.
The Simple Job Board is a powerful WordPress plugin that provides you with a beautiful job board on your website to list various job offers. The added benefit of using this plugin means that you can use it for more than just jobs-it can also be used for other promotional opportunities or events.
Simple Job Board is a plugin that lets you add, categorize, and manage all jobs using the WordPress user interface. You can allow job listers to add job types in their listings. They can also add the location of the job on an individual basis. You can also add a category shortcode to any post to enlist the job listing of that particular category. You can add the job location to any post by using the specified shortcode.
You can also add the job type to any post by using the specified shortcode. You can also add a combination of multiple shortcodes for a job listing. The plugin comes with an anti-hotlinking option that enhances the security of your documents. The plugin also allows you to upload documents in various extensions.
You can also view the list of applicants who applied for a particular job. You can set job listing, job features, application form, filters, and email notifications for a job through global settings.
With easy, lightweight implementation and customization options at the disposable of the user, this plugin is a great option for any WordPress site.