5 Best WordPress Signature Plugins in 2023
An online signature is a digital version of a handwritten signature that allows you to sign documents electronically. This type of signature is legal and binding in many countries, making it a convenient way to sign contracts, forms, and other documents without having to print them out and sign them by hand.
If you're a WordPress user, you know that having a good signature plugin can make your life a lot easier. There are tons of different plugins to choose from, so it can be tough to decide which one is right for you.
But don't worry – we've got you covered. In this post, we'll introduce you to five of the best WordPress signature plugins. We'll also provide a brief overview of each one so that you can decide which plugin is right for your needs.
5 Best WordPress Signature Plugins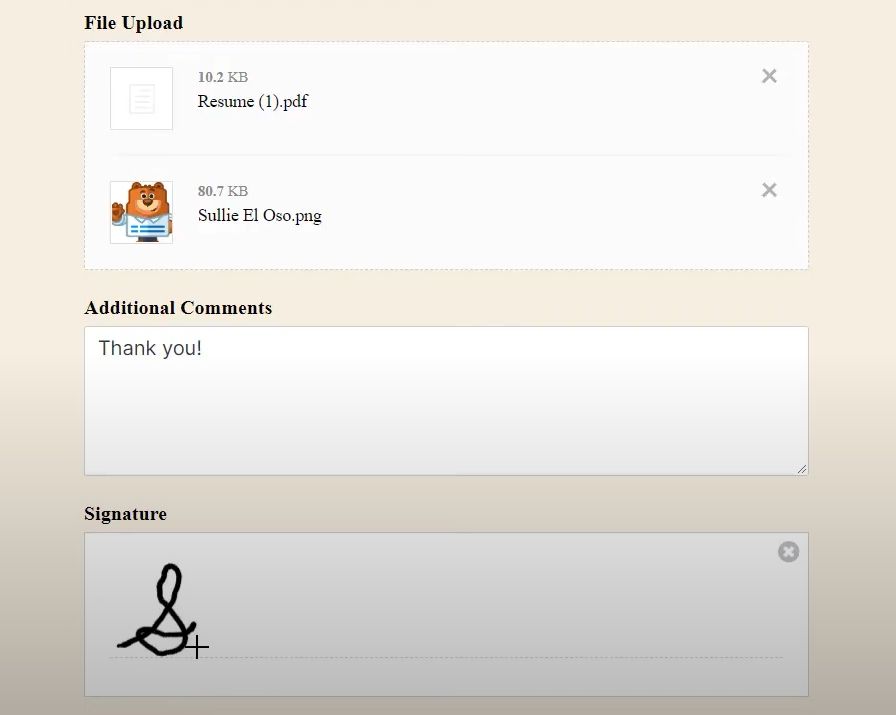 WPForms is the best WordPress signature plugin for automatically collecting signatures on your website. Compatible with any form and capable of collecting drawings, the WPForms Signature addon lets users add their autographs just by drawing them with a mouse or touchscreen. If they make a mistake, it's easy to undo without reloading the page.
In the backend, you can:
modify the size of the signature field
determine it is required or not
apply conditional logic to hide or show the field
Gravity Forms is the other top WordPress plugin for creating forms and collecting signatures. With the Signature add-on, you can easily collect digital signatures from your users.
The Gravity Forms Signature Add-On makes it easy for you to add signature capabilities to your forms. This way, users can sign your forms using touchscreen devices, touch pads, or a mouse. You don't need any browser plugins.
The Signature add-on allows you to:
Add an e-signature field to any form
Set the field as "required"
Adjust the width and height of the signature field
Choose who can sign the document (the form submitter, another person, or both)
The Signature add-on is a great way to get legally binding signatures from your users. It's also super easy to use, so you won't need any technical knowledge to set it up.
Add a professional-looking signature pad to your WooCommerce checkout page with the Order Signature for WooCommerce plugin. This handy plugin lets you capture customers' signatures during the checkout process, making it easy to get their approval for orders.
The PRO version of the plugin comes with even more features, such as being able to save signatures and print orders with signatures on them. So why not give your business that extra touch of professionalism and ease customers' minds by including a signature pad on your checkout page?
WP E-Signature is an easy-to-use, reliable WordPress plugin that gives you the eSignature automation tools you need to protect your business. With its simple and intuitive contract builder, you can create beautiful legally binding contracts right from your WordPress website.
You can also collect valuable data with text fields, radio buttons, checkboxes, dropdowns, date pickers, and even file upload forms. So not only will you look like a pro to your customers, but you'll also be able to easily download or receive an email attachment of signed documents as a PDF.
Creating, managing, and saving contracts online just got easier with WP Online Contract. This plugin allows you to create custom contracts using flat text files and shortcodes, then view revisions of existing contracts.
Plus, your clients can view and sign contracts online in one place! Responsive for any device, this plugin is a must-have for businesses looking to go paperless.