If you're running a WordPress site, then at some point you'll need to import content from another source. There are a lot of WordPress import plugins out there, but which one is the best? Here are five of the best WordPress import plugins, based on my own experience.
Why Use a WordPress Import Plugin?
There are a number of reasons why you might need to use an import plugin. For example, if you're migrating your site from another platform, such as Blogger or WordPress.com, then you'll need to use an import plugin to bring your content over.
Or, maybe you have a lot of content in another format, such as a CSV file, and you need to import it into WordPress. In that case, an import plugin is exactly what you need.
Factors to Consider When Choosing Import Plugins
When choosing a WordPress import plugin, there are a few factors you need to consider:
What type of content are you importing?
When choosing a WordPress import plugin, you need to consider what type of content you're importing. Are you importing posts, pages, comments, images, or something else?
How much content are you importing?
If you're only importing a few pieces of content, then any WordPress import plugin will suffice. However, if you're importing hundreds or even thousands of pieces of content, then you'll need to choose a plugin that can handle that volume.
What are your requirements?
Each WordPress import plugin has its own set of features and requirements. You need to make sure that the plugin you choose meets your own specific needs.
How easy is the plugin to use?
Import plugins can be a little tricky to use, especially if you're not familiar with them. You need to make sure that the plugin you choose is easy to use, otherwise, you'll have a lot of difficulties importing your content.
5 Best WordPress Import Plugins
WordPress Importer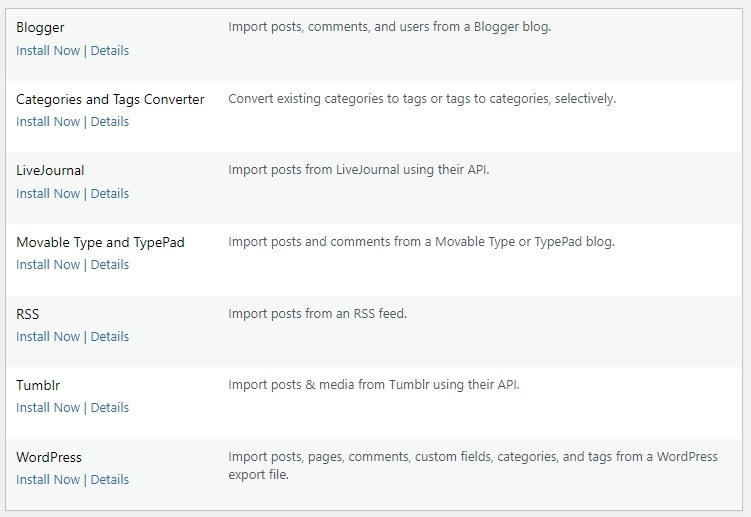 The WordPress Importer is a great choice for importing content from another WordPress site. It's also useful for importing content from other platforms, such as Blogger, Tumblr, and Joomla.
The WordPress Importer is easy to use and it has a lot of features, including the ability to import images, comments, and custom fields. It also supports multisite installations.
It is available under Tools > Import.

WP All Import is another great choice for importing content into WordPress. It's powerful yet easy to use, and it can import data from a wide variety of formats.
Importing content with WP All Import is a breeze – just select the file or feed you want to import, map the fields in your data to the appropriate WordPress fields, and hit import. You can even import images and other media files into WordPress automatically.
If you're looking for an easy way to import content into WordPress, WP All Import is the plugin for you. With its simple drag-and-drop interface, importing XML or CSV files is easy. WP All Import can be used for a wide variety of purposes, from importing data from a legacy CMS to creating a store with an affiliate data feed.
If you're a blogger and a designer, then this plugin is for you. The WordPress Customizer Export/Import plugin allows you to export or import your customizer settings from within the interface. With an easy-to-use layout, this makes it much more convenient when switching themes.
Importing customizer settings is easy. Choose the export file you would like to import, select if you want to download images, and then click the import button. Once your settings have been imported, the page will refresh and your new design will be displayed.
Widget Importer & Exporter is an essential plugin for anyone who uses WordPress Widgets. It makes it easy to move widgets from one site to another, back up widgets, and even sample widgets for developers. The import/export process is simple and straightforward – just upload an export file created by the plugin and see the results in a nicely formatted table.
If you run a WooCommerce store, then you know how important it is to keep your product inventory up to date. But updating products one by one can be time-consuming and tedious. That's where the Product Import Export for WooCommerce plugin comes in. This free plugin makes it easy to export and import WooCommerce products in CSV format.