WordPress 6.0 is under development and is scheduled for release on May 24, 2022. WordPress 6.0 will bring numerous modifications for developers to explore and utilize in their own themes, plugins, and projects.
WordPress 6 Changelog
What is new in Release Candidate 1
WordPress 6.0 is the second major release for 2022. This release includes nearly 1,000 fixes and enhancements that span most areas of the WordPress platform. Some key highlights within the content creation and site-building feature sets include:
Style Switching: switch up the look and feel of your site, all in one block theme. No need to change themes!
More template options: use blocks to edit five more templates (author, date, categories, tag, and taxonomy).
Multi-select: Easily select text across multiple blocks. Edit to your liking.
Retain Styles: Keep your custom styles in place, whether transforming between blocks or creating new buttons.
More patterns in more places: the Quick Inserter surfaces patterns that might work well for the condition you're in, baking in relevant patterns for template parts and pages you're working on.
List View improvements: New keyboard shortcuts (shift + click) let you select multiple blocks to modify in bulk (reposition, delete, etc.), see your content at a glance with a collapsed by default view, and more.
Refined design tools: Explore a new color panel, transparency options, more group block variations to create new layout options (Stack, Row), the ability to set your featured image in a Cover block, control the exact size of your featured image, gap support for the Gallery block, and more.
New blocks: Various Post Comments, Read More, No Results in Query Loop, Post Author Biography, Avatar blocks.
Block Locking: Choose to disable the option to remove a block, move it, or both, right in the editor.
Export block themes: Explore the improved block theme export tool, as WordPress heads closer to codeless visual block theme building.
What is new in Beta 4
Since Beta 3, various items have been addressed, including (but not limited to):
Update post content placeholder
Comments block: Fix glitches found while backporting
Show add pattern label when patterns are being prioritised
Fix regression with featured images in latest posts
Navigation Link: Avoid unnecessary re-renders
Navigation: Improve selector performance
Comments Title: Count toggle working in 'Singular' editing mode
[Writing Flow]: Try to fix multi-selection with shift+click
Fix alignment issue with comment author name
Comment Content: Show moderation message
Display paragraph breaks in comment contents block
Fix style comment awaiting moderation indentation
Fix: Page patterns don't show when only one pattern is available
Update the placeholder for post excerpt
REST API: Fix regression in the Pattern Directory endpoint.
REST API: Fix the scheme for the Block Directory search endpoint.
Show comments previews in the Comment Query Loop.
Avoid DB error in comment meta queries.
What is new in Beta 3
Twenty Twenty-Two: Implement alternate json files
Fix duotone rendering in site editor
Create Comments Title block with simple styling 
Navigation block: After choosing an option from Select Menu, focus after block render 
Add comment id to all comments inside comments query loop
Add post-comments-form block to comments template 
Elements: Add styles to the footer before the block is rendered 
Add default comment status to discussion settings 
Fix styles for nested elements (link color) 
Move wp_enqueue_block_style() to wp-includes/script-loader.php, for better consistency
Move administration related hooks to admin-filters.php 
What is new in Beta 2
Block Editor: Prevent styles from being added to the site editor
Patterns REST API: Add 'inserter' to the schema
Don't load remote patterns twice in WP_REST_Block_Patterns_Controller::get_items
Add the ability to filter the whole notification email in retrieve_password
Avoid translating empty plugin headers
What is new in WordPress 6
These are some major changes coming in this version.
You can add comments, post author, Read More, and no result text to Query Loop.
Use a post's featured image in the cover block!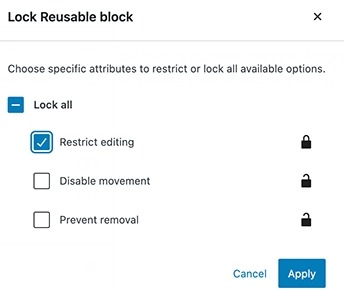 Select text in multiple blocks easier.
Users now can lock reusable blocks to prevent others from changing them.
You will be able to choose how blocks behave on different screen sizes. They can be stacked vertically or horizontally with new Group settings.
When you type two square brackets ("[[") in a block, the editor will pop up the suggestion to link to an internal post.
The Webfonts API will give theme authors a more efficient way to use local fonts in their themes. This will be done through PHP or the theme.json file.