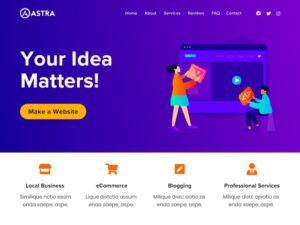 Wp Astra is a clean and modern responsive and retina-ready WordPress theme designed for a WordPress blog or online store.
Astra is the perfect theme for any WordPress website. Astra will give you a fine tuned experience through its very simple interface and amazing layouts. From bloggers to business owners, this versatile theme can be used for all sorts of web projects.
Additionally, there are many features that really highlight what makes Astra so good. Firstly, it's built with SEO in mind meaning your blog will always stay relevant in search engines across the board! This means more exposure which equals more traffic! Secondly, with Schema markup code integrated into every last bit of Astra code you now have ultimate control over Google's knowledge graph data as well as other major social sites like Facebook and Twitter automatically generated meta tags which help build your site.
With features like speedy load times, responsive sizes, and Vanilla JavaScript to under 600 KB of space, Astra is the perfect illustration of small yet mighty. Customize with social media widgets, fonts from over 700 Google typesets to enhance your pages in addition to many other settings including content pages for products, carts for mobile-ready storefronts, container layouts depending on site type…and more!
The Wp Astra theme is a pre-built website that has been designed to take the hassle and challenge out of building your own website. You can get away with designing for other people's needs while working on 98 other projects by picking up this template.